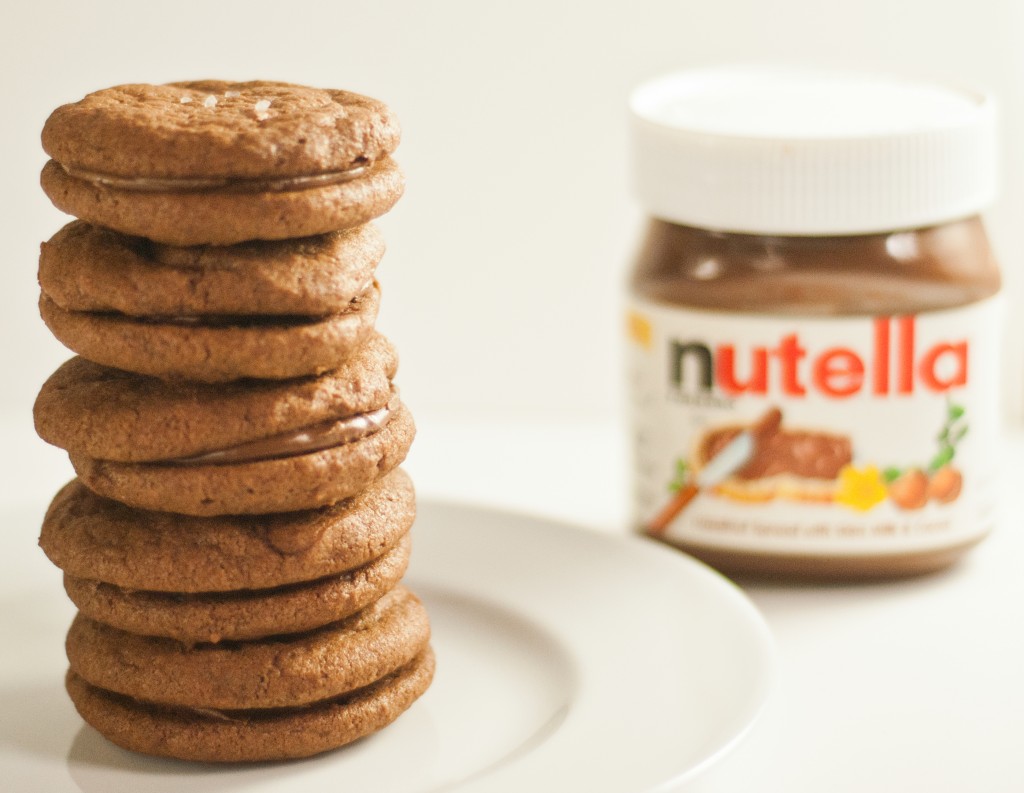 I have a cookie problem.
Not that kind of cookie problem, the kind where you pick up a bag of Chips Ahoy or a sleeve of Oreos and can't stop eating them (okay, so I might also have that kind of cookie problem). My real, currently pressing cookie problem is that I just cannot seem to master correct baking times. Without fail, even following a recipe, my fear of underbaking takes over and I end up putting them back in and erring too far the other way. This only happens with cookies. Cupcakes? Pies? No problem. But if you're going to call yourself any kind of baker, you have to be able to conquer the cookie. Cookies are the Taylor Swift of desserts. They're sweet, they don't make trouble, and there's enough variety there that everyone likes them, even those who pretend they don't. I like them too, maybe even love them – we're not quite there yet – but I'm held back by the fact that cookies continue to be my kitchen kryptonite (real-life kryptonite: laundry). Allow me to illustrate for you how a typical cookie-baking session shakes out in my home:
Timer dings. I eagerly open the door to my waiting sheets of perfectly set cookies.
Wet, gooey dough piles stare back at me.
I keep my cool and set the timer for three more minutes.
Timer dings. I check again. Still unset blobs. Tentatively poke one and watch the indentation my finger made collapse into the cookie. Set the timer for two more minutes.
Timer dings. Oven contains dozens of leaden, rock-like discs staring up at me. Are they…are they taunting me?
Profanity.
The above is pretty much status quo when I make cookies, although I downplayed the swearing for you. I like to think that my complete ineptitude at cookie-making keeps me humble. The other upside is that this particular time, what seemed like an inevitable cookie disaster resulted in these fantastic sandwich cookies, which are positively teeming with Nutella (Italian for "chocolate hazelnut crack").
When I once again slightly overcooked my cookies, I heaved a big sigh (after plenty of Step 6: Profanity, of course) and vowed to grin and bear it. I will not remake these just to prove that I can do it right, I repeated to myself over and over. But I had to do something - we had friends coming over to watch football, and I couldn't bear the thought of sending them home with cookie bricks, especially if our Steelers lost (they did – curse you, Tim Tebow). The flavor was great, but they needed something that could counteract the crunch. So I hoisted my leftover half-jar of Nutella and spread a thick layer on a cookie, then topped it with another cookie and took a bite – and there it was. Alone, these cookies were just a little too crunchy to enjoy as a standalone cookie – but surrounding that creamy layer of Nutella from both sides, with the savory hint from the sea salt, they worked. Oh, did they work.
I'm learning to accept that I may never conquer the cookie, but they've certainly taught me to make the best of a bad situation. And I'll take a life lesson over baking perfection any day.*
*False. I would prefer baking perfection.
Salted Nutella Sandwich Cookies
Yield:
24 cookies/12 sandwiches
Ingredients
1½ cups all-purpose flour
⅓ cup cocoa powder
1 tsp baking powder
1 stick unsalted butter, room temperature
1 cup granulated sugar
1 tsp vanilla
⅓ cup Nutella or other chocolate-hazelnut spread
⅓ cup milk
Coarse sea salt for sprinkling
Extra Nutella for filling
Instructions
Preheat oven to 325 F. Line cookie sheets with parchment paper.
In a medium bowl, whisk the flour, cocoa powder, and baking powder together to combine.
With a hand or stand mixer, cream the butter and sugar together until pale and fluffy, about 3 minutes. Mix in the vanilla and Nutella and beat until smooth, about one more minute.
Add the flour mixture and milk alternately in two additions. Beat until just combined. Cover the cookie dough and chill in the refrigerator for 20 minutes.
Roll cookie dough into one-and-a-half inch balls with your fingers and place two inches apart on baking sheets. Flatten the balls very slightly and sprinkle with the coarse sea salt.
Bake 15-17 minutes, until set. Note: if you want these chewier to serve plain, bake for 12-15 minutes.
Allow to cool on baking sheets for five minutes, then transfer to racks to cool completely.
When completely cooled, slather the middle of each cookie with a generous dollop of Nutella and top with another cookie. Pat yourself on the back for your salvaging efforts and treat yourself to one immediately.
Source: Cookie recipe from Sugarcrafter