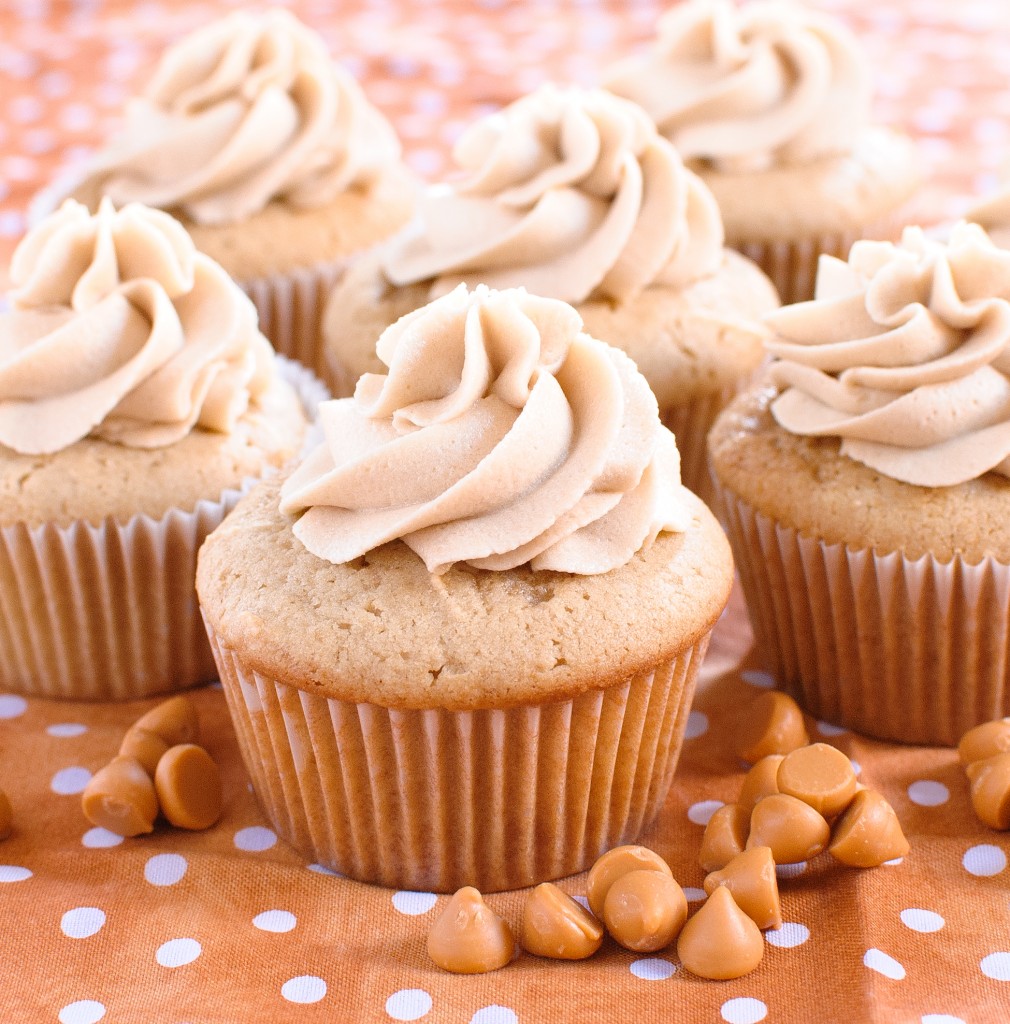 I saw a really amazing tweet the other day that said something like, "if you look in the mirror and say 'pumpkin spice latte' three times, a white girl in yoga pants will appear and tell you everything she loves about fall."
I'm going to try really hard not to be that girl. Now that it's cooling down and it's officially autumn, I'm a little less reluctant to celebrate fall. What a difference a couple of weeks makes, right? But for the love of sage, I promise to do my very best not to inundate you with pumpkin everything. It should be noted, though, that if I fail, it wouldn't be the first time my very best didn't quite cut it.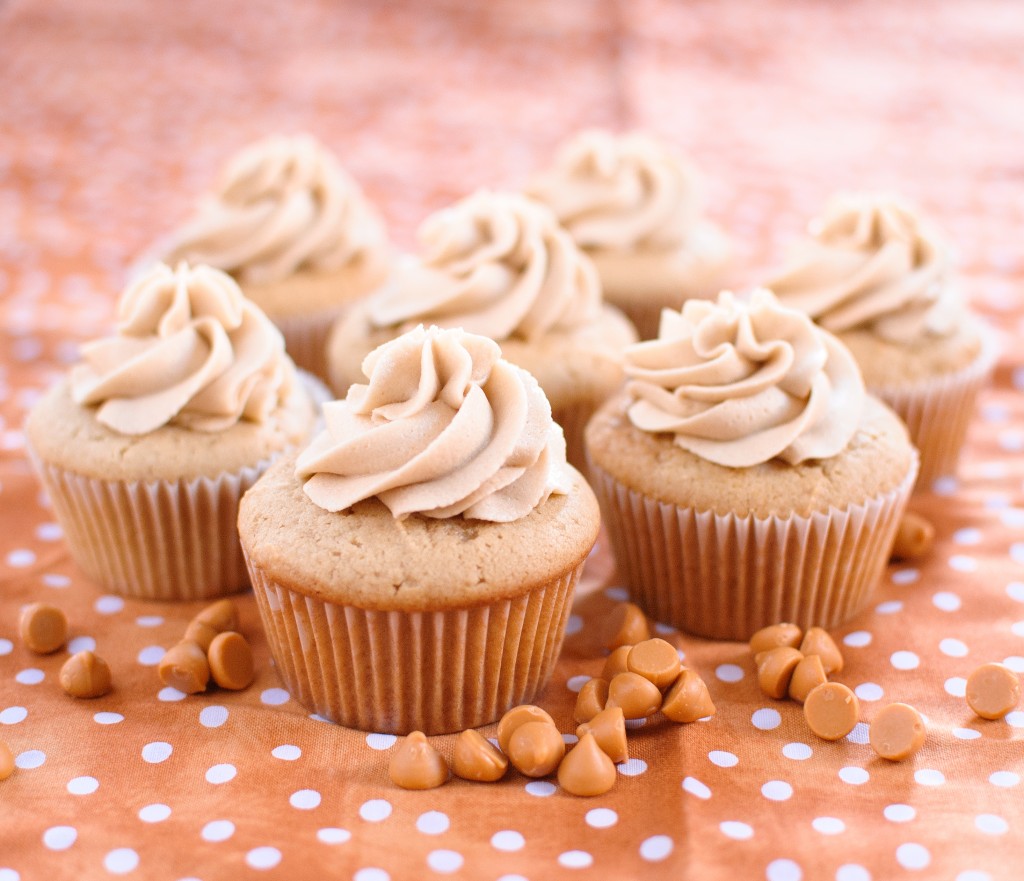 Let's ease in to this fall frenzy with something sweet, shall we? Butterscotch isn't just a fall thing, is it? I eat butterscotch in the summer, too. And I'd eat these cupcakes any day of the year. Butterscotch, caramel, toffee – if you want to burn some sugar, I'm your girl. I love these because they're butterscotch through and through – rich brown sugar cake with just a touch of rum, and an even more decadent frosting made with your own homemade butterscotch. The original recipe is actually triple butterscotch because it has a homemade butterscotch sauce drizzled on top, but I thought these were absolutely perfect just as they were* (on top of being the perfect gentle introduction to autumn).
*Code for "I am lazy."

Double Butterscotch Cupcakes
Rich butterscotch cupcakes with creamy butterscotch frosting.
Ingredients
Cupcakes
3 cups all-purpose flour
¾ tsp baking soda
¾ tsp baking powder
1 tsp kosher or sea salt
2 sticks (8 oz) unsalted butter, room temperature
1¾ cups + 2 Tbsp. lightly packed dark brown sugar
1½ Tbsp vegetable oil
3 large eggs, at room temperature
1½ Tbsp dark rum or 1 tsp rum extract
2 tsp vanilla extract
1 cup sour cream
Frosting
2 sticks unsalted butter, at room temperature
1 cup lightly packed dark brown sugar
½ cup heavy cream
¼ tsp. salt
2 tsp. dark rum
2 cups powdered sugar, sifted
Instructions
To make the cupcakes:
Preheat oven to 350 F. Line two cupcake pans with paper liners and set aside.
In a medium bowl, combine flour, baking powder, baking soda and salt. Stir to combine, then set aside.
In a large bowl or the bowl of a stand mixer, combine butter and brown sugar. Beat on medium speed until well-incorporated and fluffy, 2-3 minutes. Add the oil and beat to combine.
With the mixer on low, add eggs one at a time, beating until each is incorporated. Scrape down the bowl as necessary. Beat in rum or rum extract and vanilla.
Add half of the flour mixture to the bowl and beat on low speed to incorporate. Add sour cream and continue beating on low. Add the second half of the flour mixture and beat on low until just incorporated and smooth.
Divide batter evenly among the prepared liners, filling each ⅔ to ¾ full. Bake for 19-21 minutes, until tops spring back lightly when touched. Cool in pans for 5 minutes, then remove to racks.
To make the frosting:
In a medium saucepan, melt 4 Tbsp of butter over medium heat. Cook, stirring occasionally, until it turns a golden brown color and begins to smell nutty (6-7 minutes). Add brown sugar, cream, and salt and whisk until sugar is completely dissolved. Turn heat to medium-high and allow the mixture to come to a boil. Boil for 3 minutes, whisking constantly. Remove from heat and transfer to a large bowl or the bowl of a stand mixer. Beat on medium-high speed for 10 minutes, until the sides of the bowl are cool to the touch.
Lower the speed to medium and add the rum. Add the remaining 1½ sticks of butter, 1 Tbsp at a time, beating after each addition until incorporated. Add the powdered sugar a few tablespoons at a time, beating well after each addition. Pipe onto cooled cupcakes and serve.
Source: 
very slightly adapted from
Annie's Eats
, via
Peanut Butter and Julie