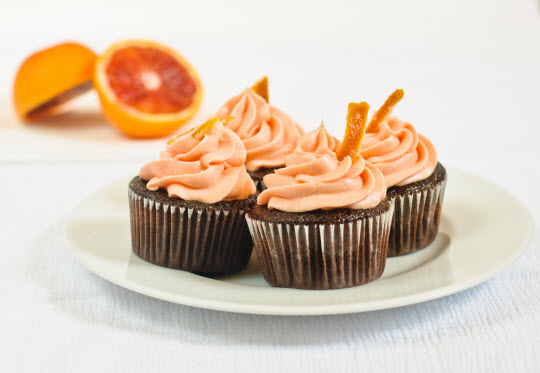 I promise this will be my last blood orange recipe (well…I take that back – there might be one more. Or maybe two). Citrus season in the non-citrus parts of the country seems to fly by, although that's probably all in my head since I feel the same way about brussels sprout season and artichoke season. I try to make the most of the few weeks where blood oranges are at the forefront of the grocery shelves, full of flavor and promising a fleeting but memorable experience. I also wanted to do something special with the last of my blood orange curd, and in my house, cupcakes = special.
Chocolate/orange is one of my all-time favorite flavor combinations. When I was younger, my uncle and grandmother would send a huge box of gifts down from upstate New York at Christmastime. I always looked forward to that box arriving, first and foremost because I was an extremely greedy child, but also because somewhere within the wrapped treats was always a Terry's Chocolate Orange for each of us. I loved cracking the round foil ball on the table before unwrapping it and watching it break into segments, almost as much as I loved the rich chocolaty burst followed by a hint of bright citrus. I haven't had a Terry's in years, but I still veer directly to chocolate when I'm trying to figure out what to pair with oranges.
I used my go-to chocolate cupcake recipe for this, which is just Hershey's Perfectly Chocolate Cake in cupcake form. This is my absolute favorite chocolate cupcake recipe  - it's rich, moist, delicious, and (most importantly) incredibly easy to make. Perking it up with a bit of blood orange zest adds a whole new element, and the tart blood orange cream cheese frosting puts it completely over the top. I loved these so much that I'm going to go scour the grocery stores for more blood oranges so I can squeeze these in a few more times before blood oranges go all unseasonal on me.