I promise you guys a two-week moratorium on appetizers after this.
Wait. Is that a reward or a punishment? Either way, you get two weeks of full-on meals and/or desserts with no hands or toothpicks required. But not until we talk about these pizza bites. I can do no justice to how easy and tasty these are – if you haven't planned your Super Bowl menu and need a quick starter, or if you need something to bring last-minute to a cocktail party, these are your jam. First – you probably have all the ingredients already. Second – they're adorable. Third – PIZZA BITES. There's cheese and seasonings and you dip them in marinara. Are you in?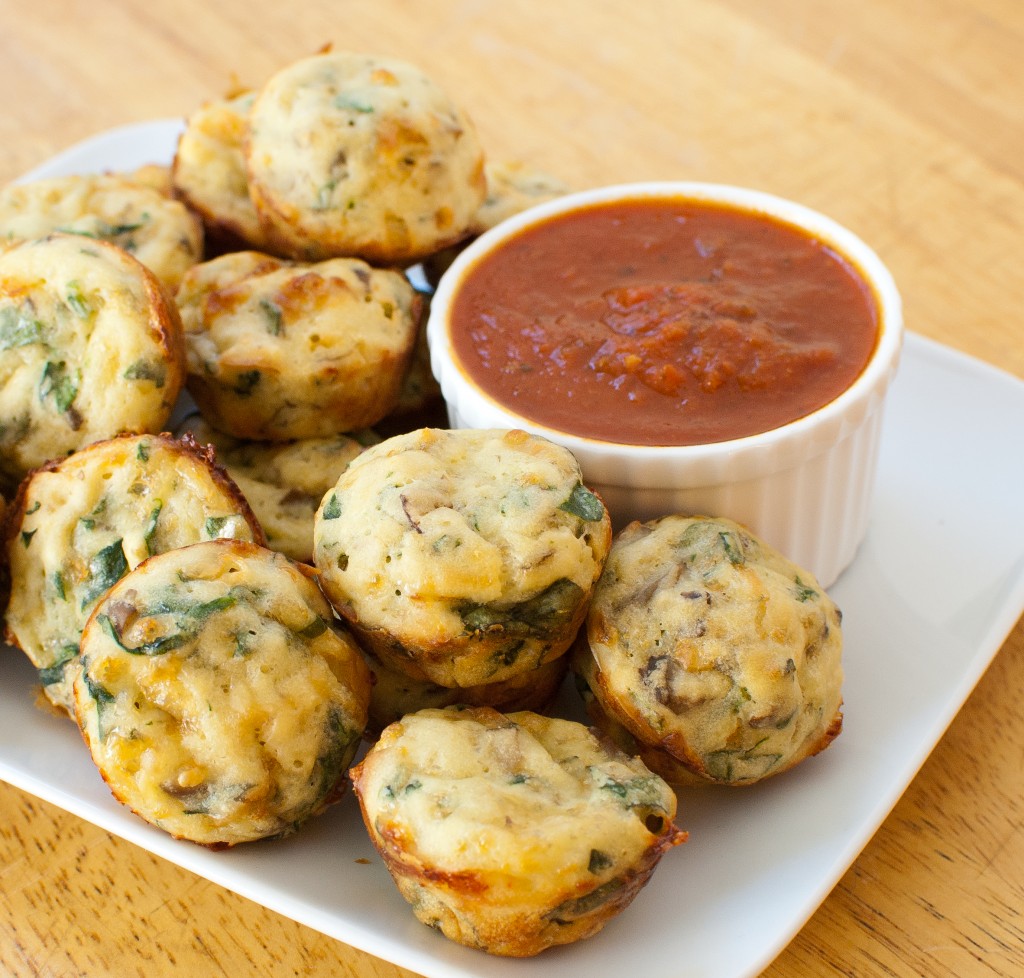 I'm in. Especially because, like I said, I don't much care about the outcome of the Super Bowl this year. I'm an East Coaster from a state where pot is illegal – so, not really this year's target audience. I'll be watching, of course, but my main focus will be eating these (among other things – we're doing calzones, so look out for those on a blog near you) accompanied by an elastic waistband and maybe a beer or two.
Once again, I can't stress enough how easy these are. It's basically like making a savory pancake batter and stirring in cheese and pizza toppings (in this case, spinach and mushrooms), before baking for 20 minutes in a mini muffin tin. The whole shebang took me under 40 minutes, and then I popped them in the freezer for Sunday (after getting some pictures and, of course, sampling a few). They're also incredibly versatile (non-vegetarians can use the pepperoni from the original recipe, or you can sub in bell peppers, olives,  sun-dried tomatoes – anything). I'm now officially ready for some football.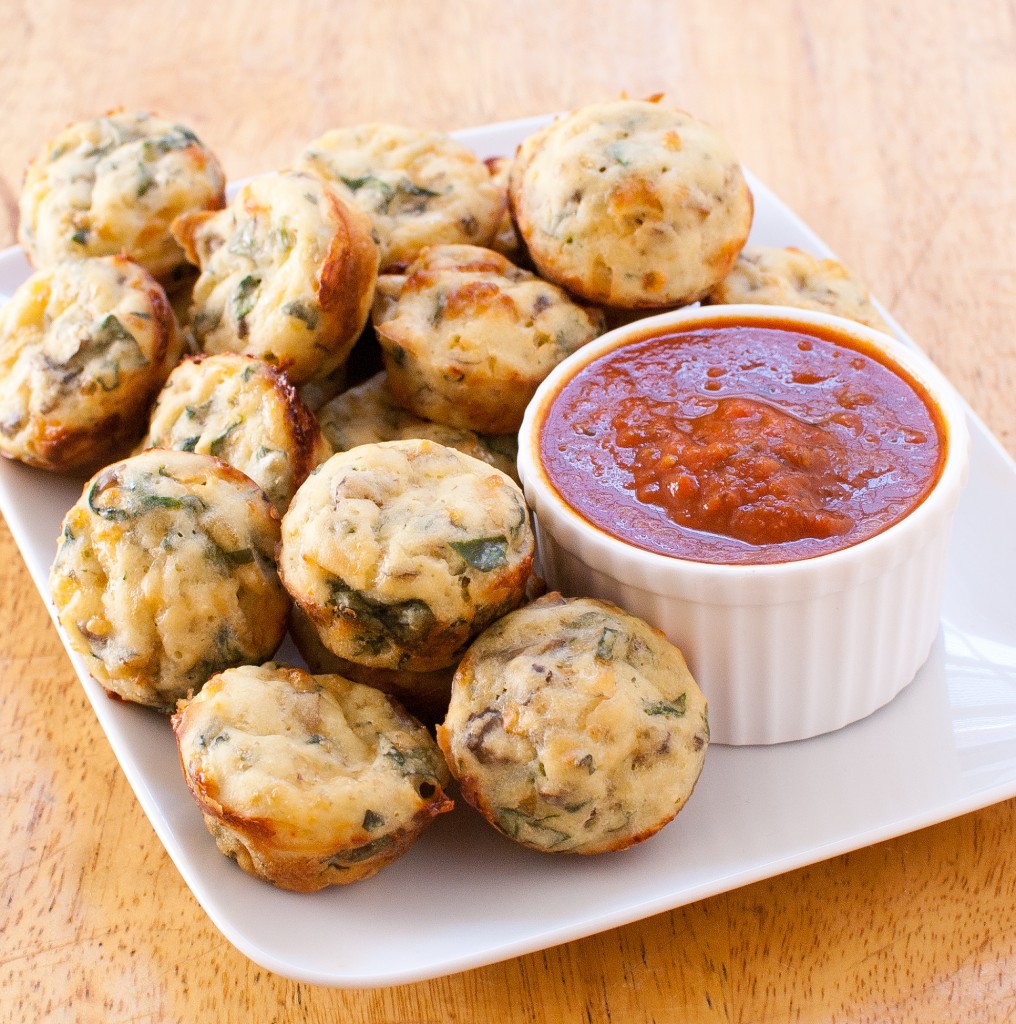 Spinach Mushroom Pizza Bites
Ingredients
¾ cup all-purpose flour
¾ tsp baking powder
¾ tsp kosher or sea salt
1 tsp dried oregano
1 tsp dried parsley
1 Tbsp olive oil
1 cup mushrooms, finely chopped
Pinch of salt
1 handful baby spinach, chopped
1 clove garlic, minced
1 egg, lightly beaten
¾ cup milk
1 cup shredded mozzarella cheese
Marinara sauce for dipping
Instructions
Preheat oven to 375 F. Lightly grease a 24-cup mini muffin tin and set aside.
In a large bowl, combine flour, baking powder, salt, oregano, and parsley. Set aside.
Heat olive oil in a skillet over medium heat. Add mushrooms and a pinch of salt and saute until mushrooms begin to release liquid, 2-3 minutes. Add spinach and garlic and saute for another 2 minutes, until spinach is wilted and garlic is fragrant. Remove from heat.
Add egg, milk and cheese to the flour mixture and stir gently just to combine. Stir in mushroom/spinach mixture. Let stand for 10 minutes.
Gently stir the batter. Divide evenly between the cups of the muffin tin. Bake for 20-22 minutes, until set and browned on top.
Serve warm with warm marinara.
Notes
If not using immediately, freeze the bites in the muffin tin. When frozen, transfer to a freezer safe container. Reheat at 350 for 8-10 minutes.
Source: Adapted from Rachael Ray Magazine
Don't miss a thing – sign up to receive new recipes by email, or follow me on Facebook, Instagram, and Pinterest.