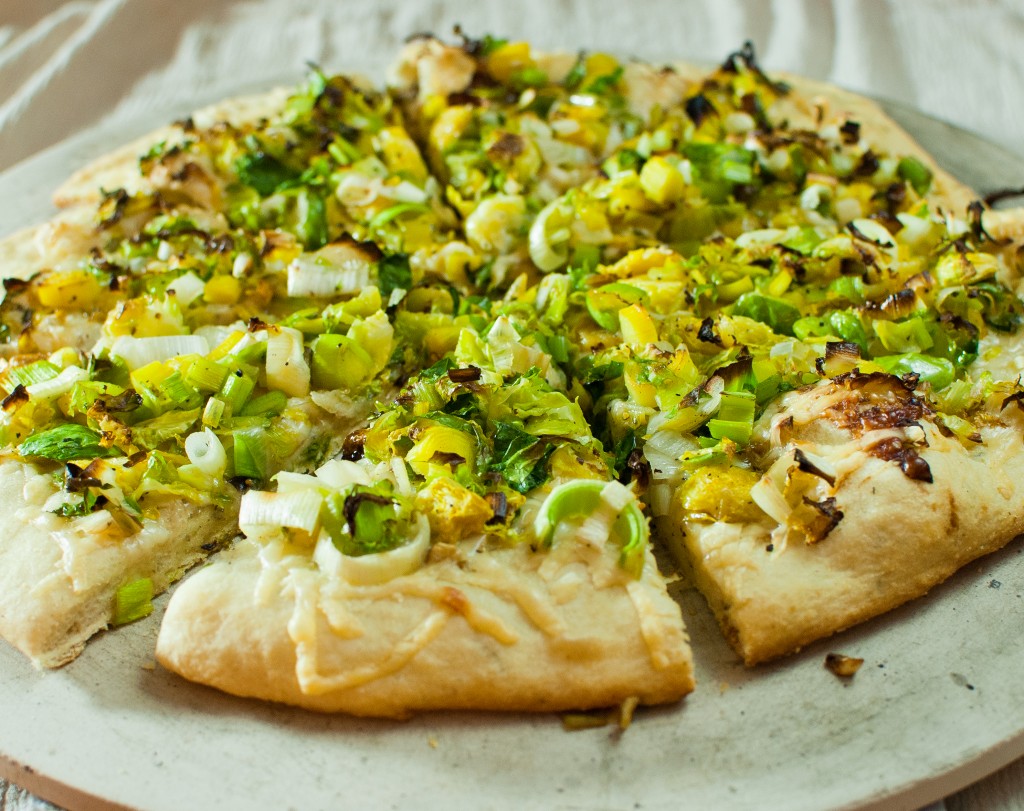 Until my dying day, I will fight for the Brussels sprout. Oh tiniest of cabbages, who whilst cooking stinks as though you were the largest of cabbages, why dost the public forsake you?
Oh. It's probably because of the whole stinky cabbage smell thing.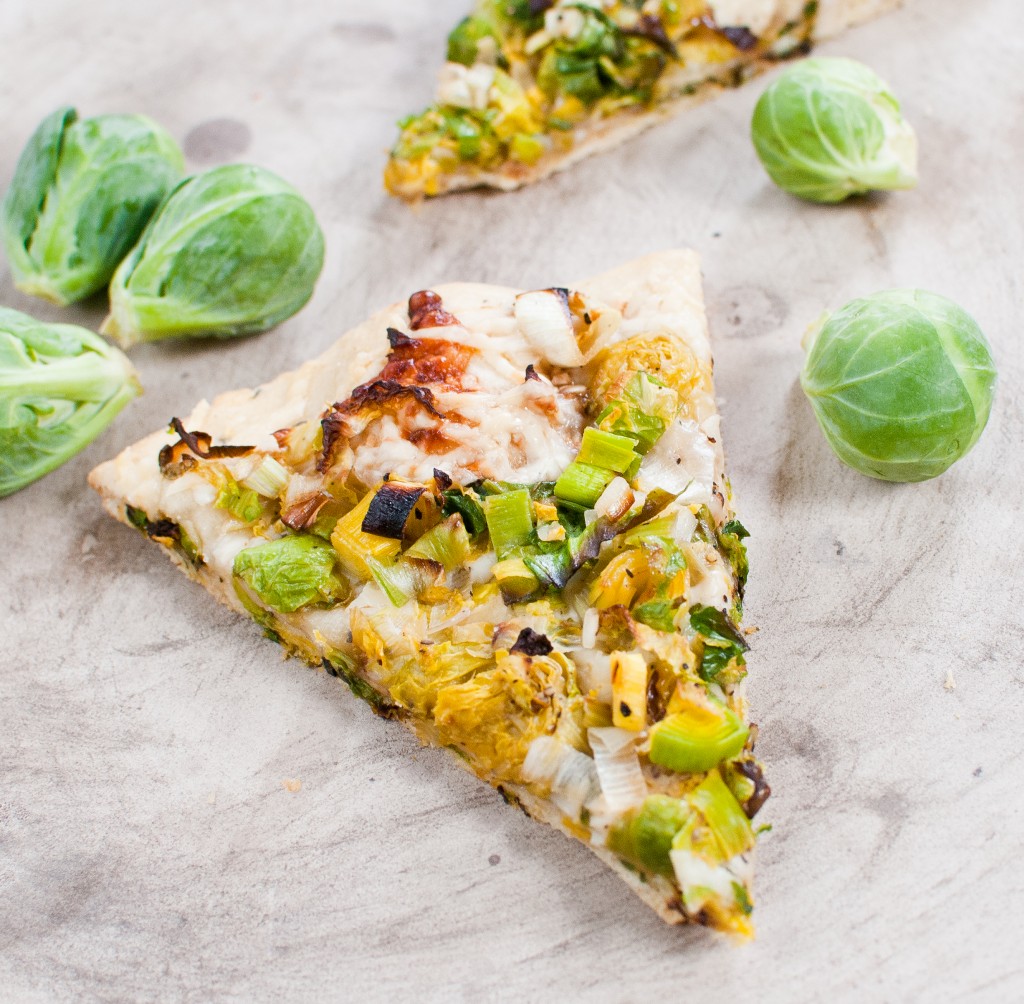 I don't know what's different about deeply roasted Brussels sprouts that make them so much better than the steamed stinkbombs people so ardently dread. I also don't know why I started this post in some weird variation of olde English. There are some things we just can't explain.
Something about Brussels sprouts roasted up in a hot oven is just so irresistible to me, to the point that I will on occasion make a full one-pound bag of them for dinner. Not as a side, as dinner. I like those nights, and I didn't think it could get much better – until I had them on a pizza. Are you kidding me? Nutty parmesan cheese, tender leeks, and the barest hint of garlicky olive oil, all smothered with salty, shredded Brussels sprouts that crisp up on top in a fiery-hot oven – I didn't know what I was missing. This is why I make my own pizza crust now – I don't think you'll find this at any pizza chain. If you're thinking you wouldn't want to, think again and take another culinary trust fall with me – you want this.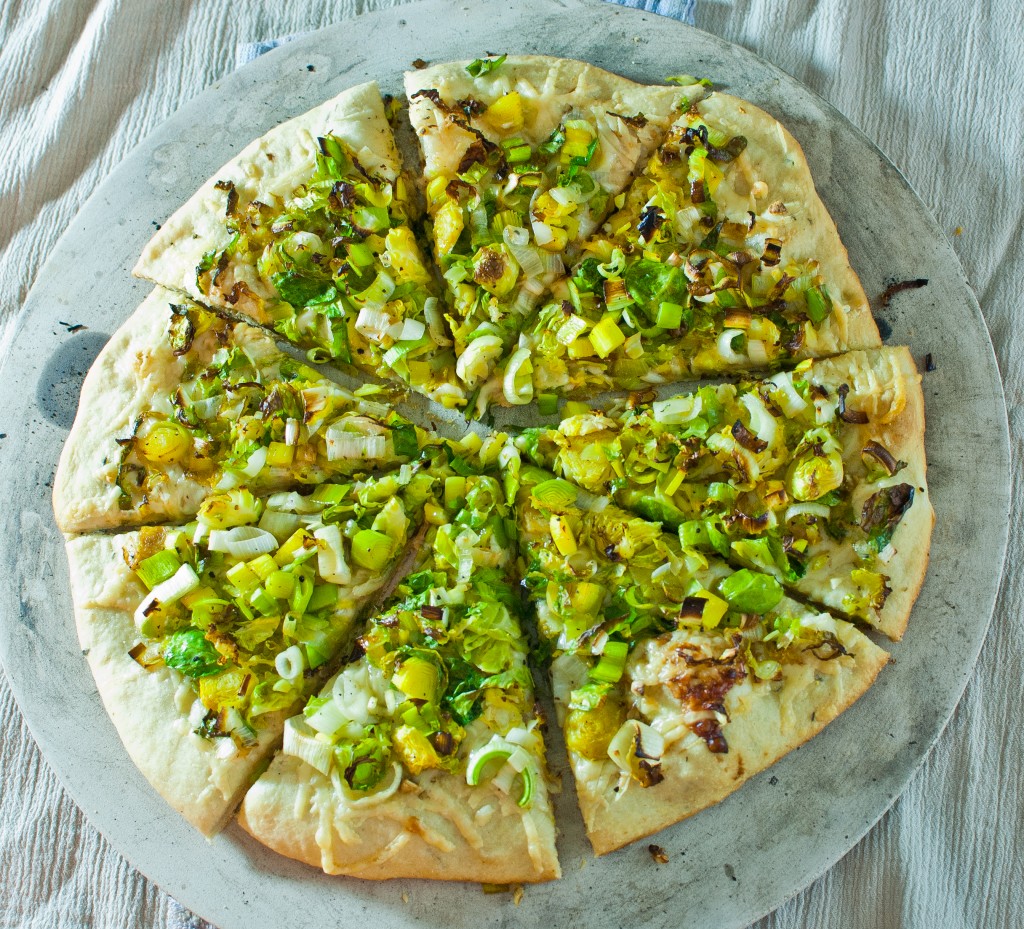 Brussels Sprout Pizza
Brussels sprouts are taken to another level in this flavorful pizza.
Ingredients
1 recipe Easy Pizza Crust, or your favorite store-bought crust
2 Tbsp olive oil (plus a little additional for the outer crust)
1 large clove garlic, minced
2 tsp balsamic vinegar
1 Tbsp olive oil
1 leek, trimmed and chopped (white and green parts only)
2 cups finely shredded Brussels sprouts
1 tsp salt
Freshly ground black pepper, to taste
1 cup shredded Parmesan cheese
Instructions
Preheat oven to 475 F.
Dust a work surface with cornmeal and roll the dough into a 14-inch circle.
Combine olive oil, garlic, and balsamic vinegar in a small bowl and stir to combine.
Heat 1 Tbsp olive oil in a medium skillet over medium-high heat. Add leeks, Brussels sprouts, salt and pepper and saute for 2-3 minutes, until just starting to soften. Remove from heat.
Brush the surface of the dough with the oil/garlic/balsamic mixture. Sprinkle cheese on top. Spread Brussels sprout/leek mixture evenly over the surface. Use a little extra oil to brush the edges of the crust.
Transfer the pizza to a baking sheet or directly onto a pizza stone that's been heated with the oven. Cook for 9-11 minutes, until sprouts and edges of crust are browned. Let cool for five minutes, slice, and serve.