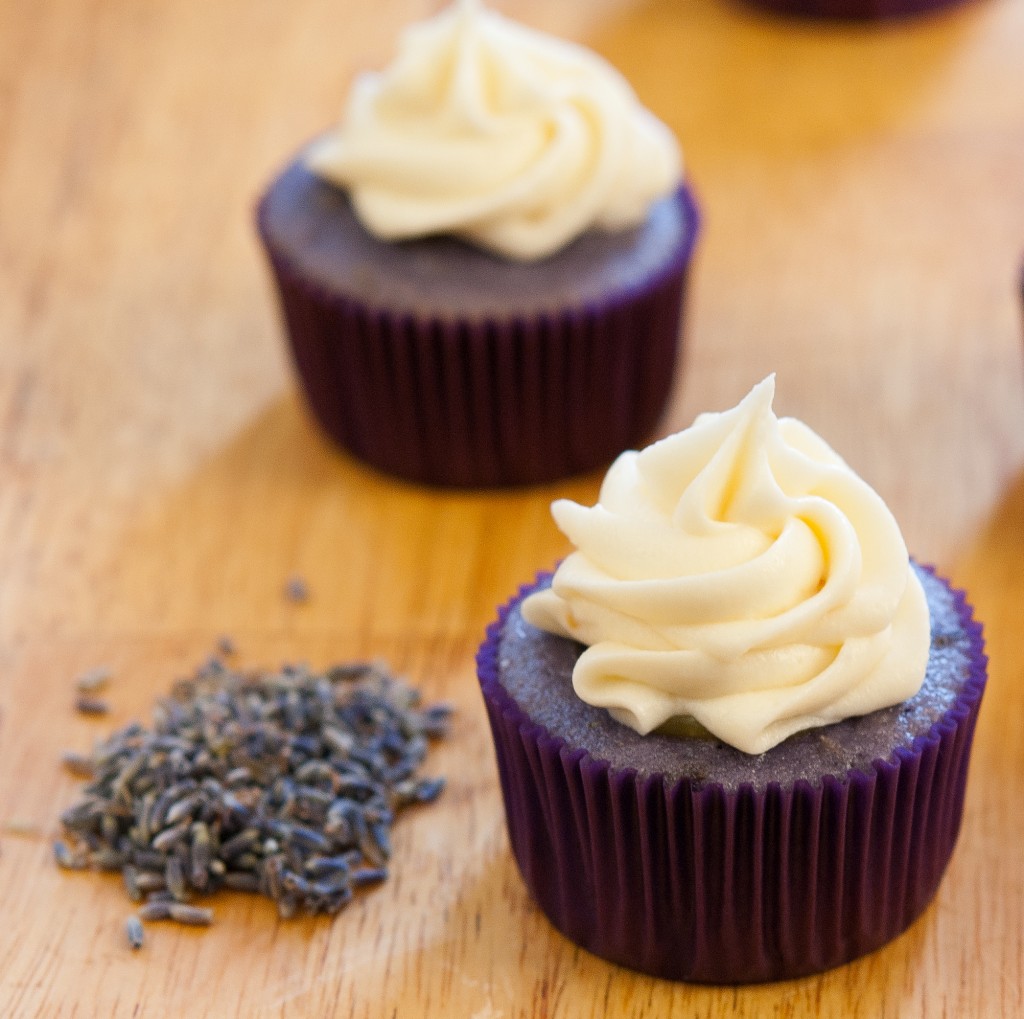 OH MY GOD. HEY GUYS!
Nearly three months (wtf?!) have passed since I've updated. I wish I could tell you I've been traveling to exotic locales or that I won the lottery, but alas, it's nothing more exciting than an extremely busy period at work along with a confluence of several other things that just left me with no time for hobbies. But let's just treat it like it was summer vacation and we've all spent the summer at camp or globetrotting or lying on beaches, and now it's time to go back to school. I actually always really liked going back to school at the beginning of the year – I always spent summer at camp and nothing was more exciting than seeing my friends when I got home. I'm just as excited to be back here. I hope you guys have all had fantastic summers.
I haven't been doing much cooking or baking lately (just what you want to read in a food blog, right?) but I did just make these lavender cupcakes for the second time. I first made them for my friend Emily's bridal shower back in the spring, and they were such a hit that they inspired one of my many dubious financial decisions to stock up on some niche culinary ingredient because all of a sudden I'm going to make all the things with it. I do this a lot. So yeah, I made lavender vodka and lavender shortbread and lavender eye pillows, but with over a pound left over, I came full circle back to the cupcakes.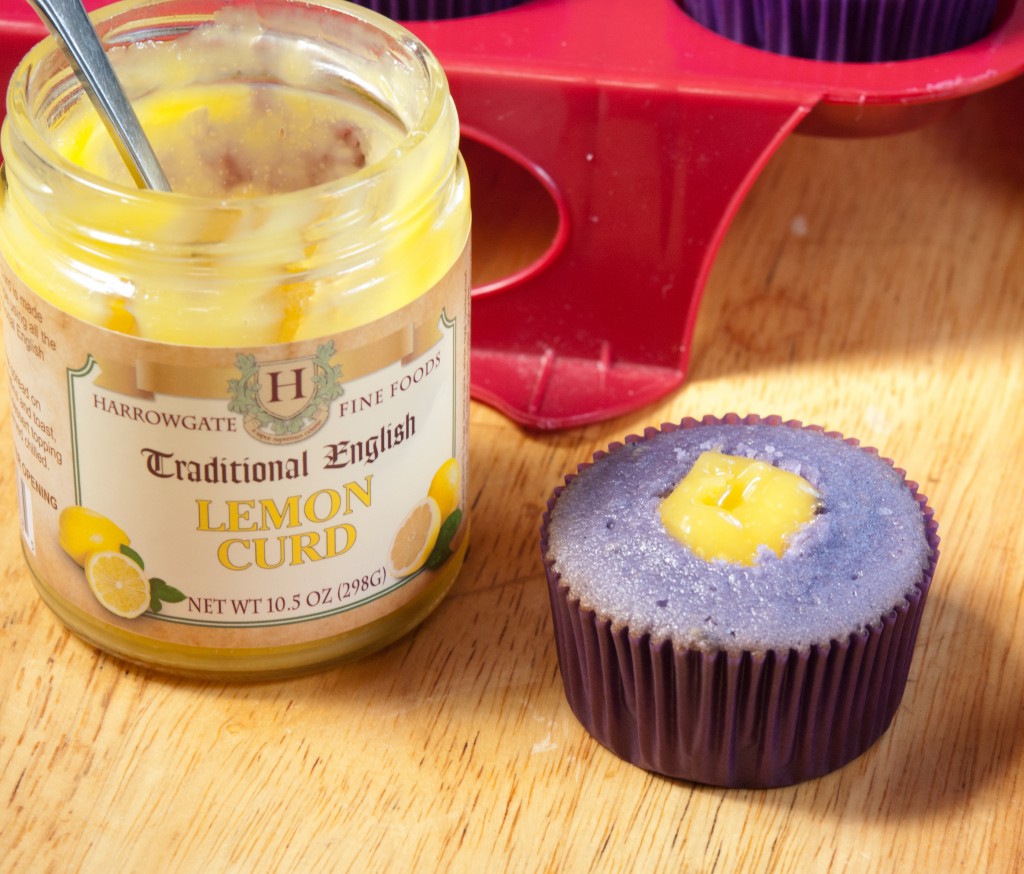 I won't lie to you – if you're not a fan of lavender's strong, flowery scent, these maybe aren't for you. Lavender in food is really more of a smell than a taste, and I've heard people who don't love it describe it as unpleasant and soapy. That said, I find that scent/taste really mellow and pleasing, and I really like the way the fragrance hits the taste buds. Combined with a soft honey-cream cheese frosting, these are way sophisticated* and perfect for showers or parties. They're also the ideal treat to send off summer – what's more summery than gorgeous purple lavender?**
By the way – my friend Emily was a beautiful bride. Here we are during her first hours as a married lady:
*way sophisticated? We can all tell how sophisticated I am.
**Okay, fine. Plenty of things are more summery. But you know what I mean.
Lavender-Lemon Cupcakes with Honey Cream Cheese Frosting
Fragrant, flowery lavender cupcakes topped with honey cream cheese frosting.
Ingredients
Cupcakes:
¼ cup dried culinary lavender
3 cups all-purpose flour
1 Tbsp baking powder
½ tsp kosher or sea salt
1 cup (2 4 ounce sticks) unsalted butter, at room temperature
2 cups granulated sugar
4 large eggs, at room temperature
1 Tbsp vanilla extract
1⅓ cups milk
1 tsp each of red & blue food coloring, or a smidge of Wilton violet food color gel
8 ounce jar of lemon curd
Frosting
1 package (8 oz) cream cheese, at room temperature
1½ sticks unsalted butter, at room temperature
3½ cups powdered sugar
¼ cup clover honey
2 tsp vanilla extract
Instructions
Make the Cupcakes:
Preheat oven to 350 F. Line two muffin tins with paper liners and set aside.
Chop the lavender buds roughly. In a medium bowl, stir together flour, baking powder, and salt. Stir in the chopped lavender buds and set aside.
In a large bowl or the bowl of a stand mixer, beat the butter and sugar together at medium speed until fluffy, about three minutes. Add the eggs one at a time, beating between each addition. Beat in vanilla and food coloring. Add the flour and milk in alternate additions, beginning and ending with the flour, beating just to incorporate between each addition.
Fill muffin cups ⅔ – ¾ full. Bake for 18-20 minutes, until tops spring back lightly when touched and a toothpick inserted in the center comes out clean. Cool in pans for five minutes, then remove to racks to cool completely. When cooled, use a paring knife to cut a circle from the middle of each cupcake. Fill the holes with about 1 tsp of lemon curd.
Make the Frosting:
Beat cream cheese on medium-high speed until fluffy, about one minute. Add butter and beat for another two minutes, until well-incorporated and fluffy.
Turn mixer to low and add powdered sugar a few tablespoons at a time, beating well between each addition. Add honey and vanilla and beat until fluffy, 2-3 minutes.
Frost cooled cupcakes and serve.
Notes
If you're not piping the frosting onto the cupcakes (e.g. if you're just giving each a little schmear), you can probably cut the frosting recipe in half.
Source: Vanilla cupcake recipe from Cooks.com