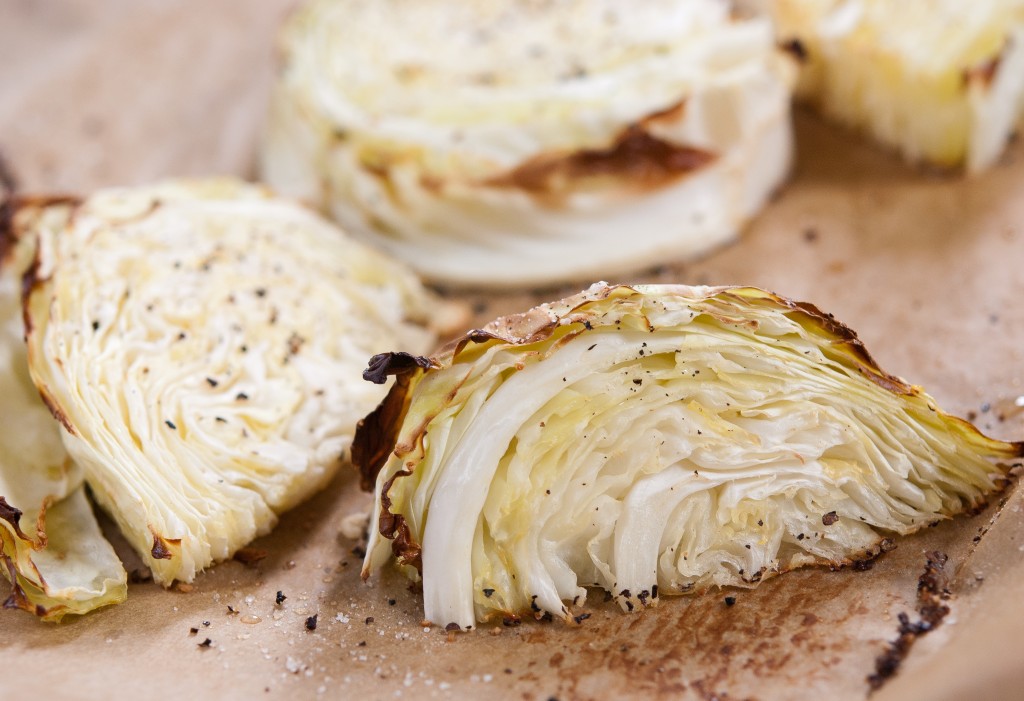 I know what you're thinking. "Really, Julie? You're posting all weekend on the facebook about making cupcakes and now you're giving me cabbage? And on a Monday, like  Mondays need to suck more?" I know. I know. I'm not even going to try to make cabbage exciting. But hear me out. I have not one, not two, but THREE cupcake recipes coming at you over the next two weeks. And they're good ones. If you're not following my ridiculous train of thought, what I'm basically saying is I just gave myself license to give you one super unexciting thing for every three awesome ones.
I'm being pretty unfair to the cabbage here. Especially since I've basically made it my life's work* to free its little cousin the Brussels sprout from its unfairly negative reputation. I actually really like cabbage, and like most of the cruciferous vegetables, it's especially good roasted. It caramelizes a little and it completely changes the texture, with a pleasing crunch and a little brightness from freshly squeezed lemon juice.
Okay, so I just typed "caramelized" which reminded me that I wanted to tell you guys that I tried to make caramel today but I cooked it for too long and it turned into toffee. Which is pretty much the best thing that can ever come from a mistake and I wish all of my mistakes ended up with me having a big pile of toffee. And what I did with it is another dessert recipe coming soon to a blog near you, which is numero uno in my next deposit into the "three awesome, one mediocre" bank.
Sorry. I am ALL over the place today. Just gonna go ahead and give you the cabbage recipe now rather than risk another completely random tangent. As a compromise to make it slightly more exciting, here are some spirit fingers.
*Not actually my life's work. Turns out it pays almost nothing.
Prep time:
Cook time:
Total time:
ROASTED CABBAGE!!!!!!!!!!! (still trying to make it exciting)
Ingredients
1 head green cabbage, washed and dried
2 Tbsp olive oil
Sea salt and freshly ground pepper to taste
Juice of half a lemon
Instructions
Preheat oven to 425 F.
Cut cabbage in half and slice lengthwise into two-inch wedges. Rub with olive oil and sprinkle with salt and pepper. Roast for 25-30 minutes, turning each wedge over halfway through.
Drizzle with lemon juice and serve.