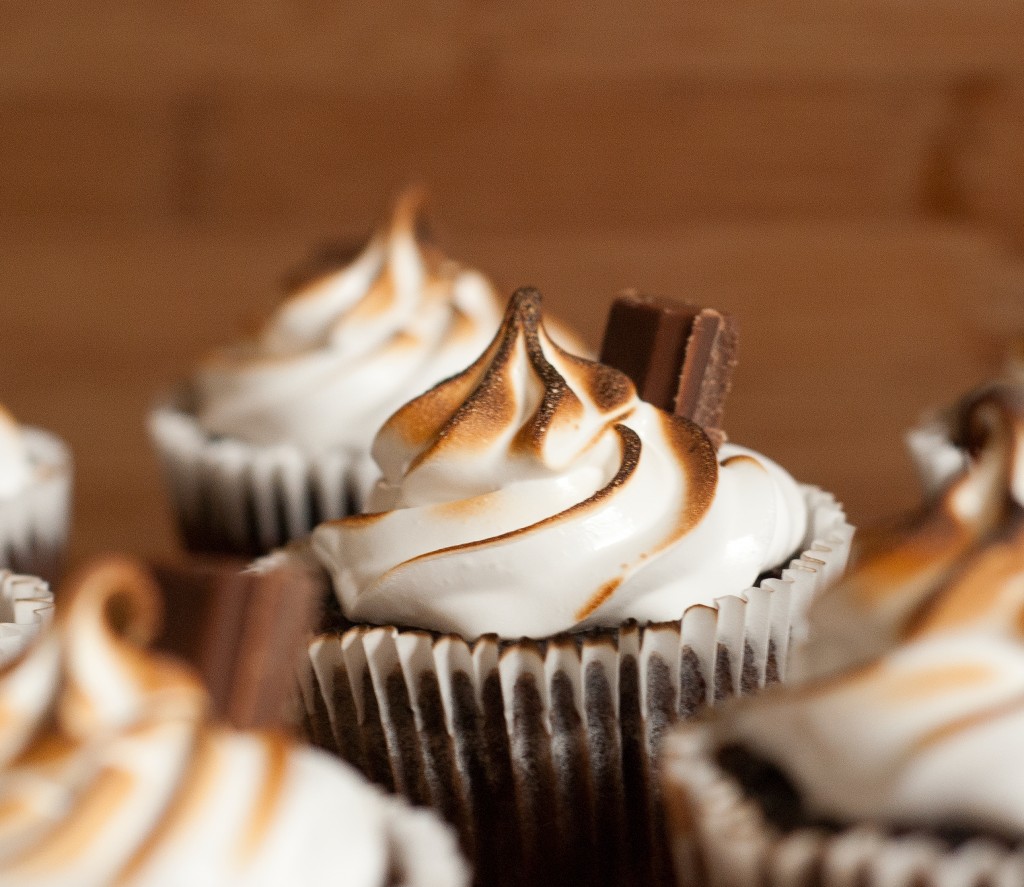 First of  all, thanks to everyone who filled out the survey in the previous entry. I've gotten some great feedback and I'm going to keep collecting for another week or so to see what else trickles in. If you missed it before, feel free to pop on back one entry and give your input on what you do and don't like about the blog and what you'd like to see in the future.
You guys, I am TIRED of winter. This one has just felt especially ucky and bleak and it's got me yearning for summertime like you wouldn't believe (please remind me that I said this in August when it's a trillion degrees and I'm whining about how disgusting and sticky it is). Summer always makes me think of s'mores, which I can't have because stupid marshmallows have stupid gelatin. And who wants to sit around a fire in the middle of summer, anyway?
Answer: me. I do. I REALLY REALLY want to sit around a fire, any time of year. I'll sit by fire when it's cold, I'll knit by fire when I'm old, I'll sweat by fire when it's hot, I'll sleep by fire in a cot.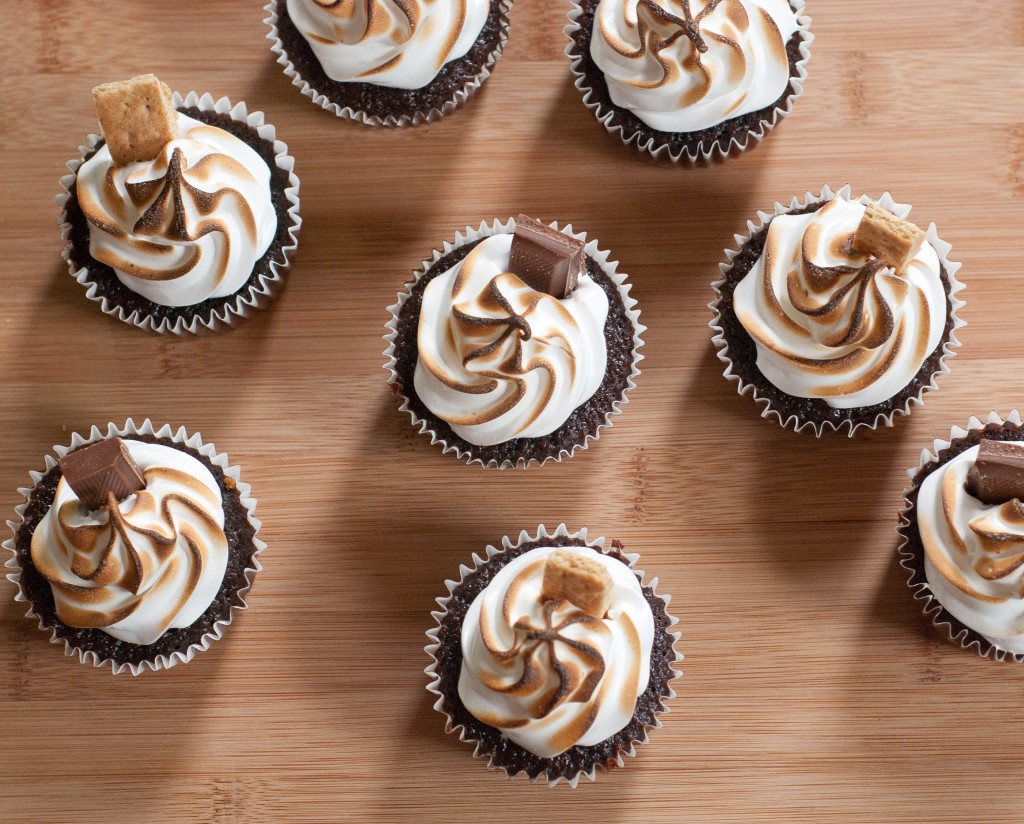 If you're asking yourself what just happened up there with that faux-Seussian nonsense, the answer is "Julie fell asleep on the couch at 7 and then woke up and tried to write a blog entry after 9 PM."  I get up at 4:45 AM – go easy on me, man. Anyway. I can't have real s'mores but I CAN have s'mores cupcakes, because the frosting is homemade marshmallow, with whipped egg whites beaten to a fluffy, pillowy texture that tastes exactly like a marshmallow. No gelatin required, and while we're at it, no campfire required – you can whip these up any time of year. And in my experience, they never taste better than in the dead of winter when you're yearning for summer.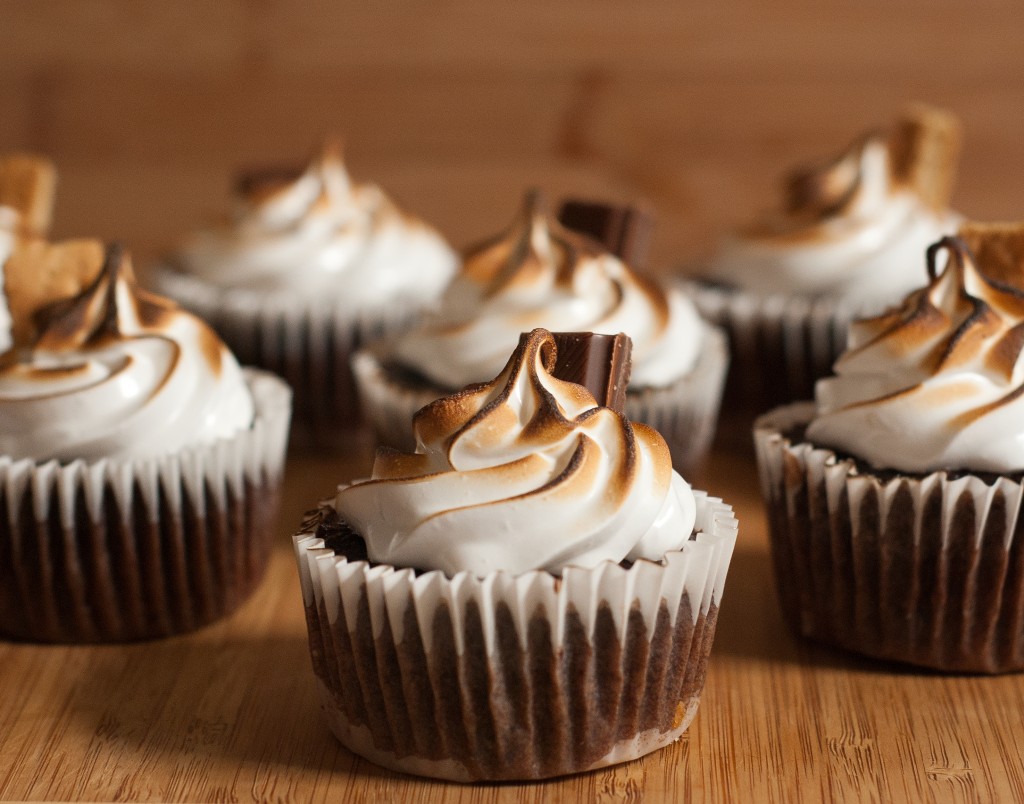 S'mores Cupcakes
The best flavors of summer, all year 'round.
Ingredients
Graham Cracker Crust
1¾ cups graham cracker crumbs
6 Tbsp unsalted butter, melted
Cupcakes
2 cups granulated sugar
1¾ cup all-purpose flour
¾ cup unsweetened cocoa powder
1½ tsp baking powder
1½ tsp baking soda
1 tsp kosher or fine sea salt
2 large eggs, at room temperature
1 cup milk
½ cup vegetable or canola oil
1 tsp vanilla extract
1 cup boiling water
Frosting
4 egg whites, at room temperature
1 cup granulated sugar
¼ tsp cream of tartar
1 tsp vanilla extract
Instructions
Preheat oven to 350 F. Line two cupcake pans with paper liners and set aside. Combine the graham cracker crumbs and butter in a small bowl and stir to combine. Drop about 1 tablespoon of the mixture into each cupcake liner and press down firmly to flatten (I use the bottom of a small glass - okay, a shot glass). Bake for eight minutes and remove.
To make the cupcakes, stir together the sugar, flour, cocoa powder, baking powder, baking soda and salt in a medium bowl or the bowl of a stand mixer. Add eggs, milk, oil and vanilla and mix (or stir) on medium speed for two minutes. Mix in boiling water until incorporated. The batter will be very thin.
Divide batter evenly among cupcake liners, filling each ⅔ to ¾ full. Bake 20-22 minutes, until a toothpick inserted in the center comes out clean. Cool in pans for five minutes, then remove to racks to cool completely.
For the frosting, fill a medium saucepan with about two inches of water and bring to a simmer over medium heat. Combine egg whites, sugar, and cream of tartar in a mixing bowl or the bowl of a stand mixer and place over the water (the bottom of the bowl should NOT make contact with the water). Cook for 6-8 minutes, whisking constantly, until the sugar is dissolved and the mixture is pale and shiny (heat to 140 to pasteurize the egg whites).
Remove from heat and beat with an electric or stand mixer on medium-high speed until the frosting forms stiff peaks (6-8 minutes for me, usually). Mix in the vanilla.
Use a piping bag or a ziploc with the corner cut out to frost the cupcakes with decorative swirls. Use a kitchen torch to toast the top of each cupcake. Garnish with graham cracker pieces or crumbs or chocolate bar chunks. Serve immediately.
Source: Idea and frosting from Martha Stewart, cupcakes adapted  from Hershey's Perfectly Chocolate Cake