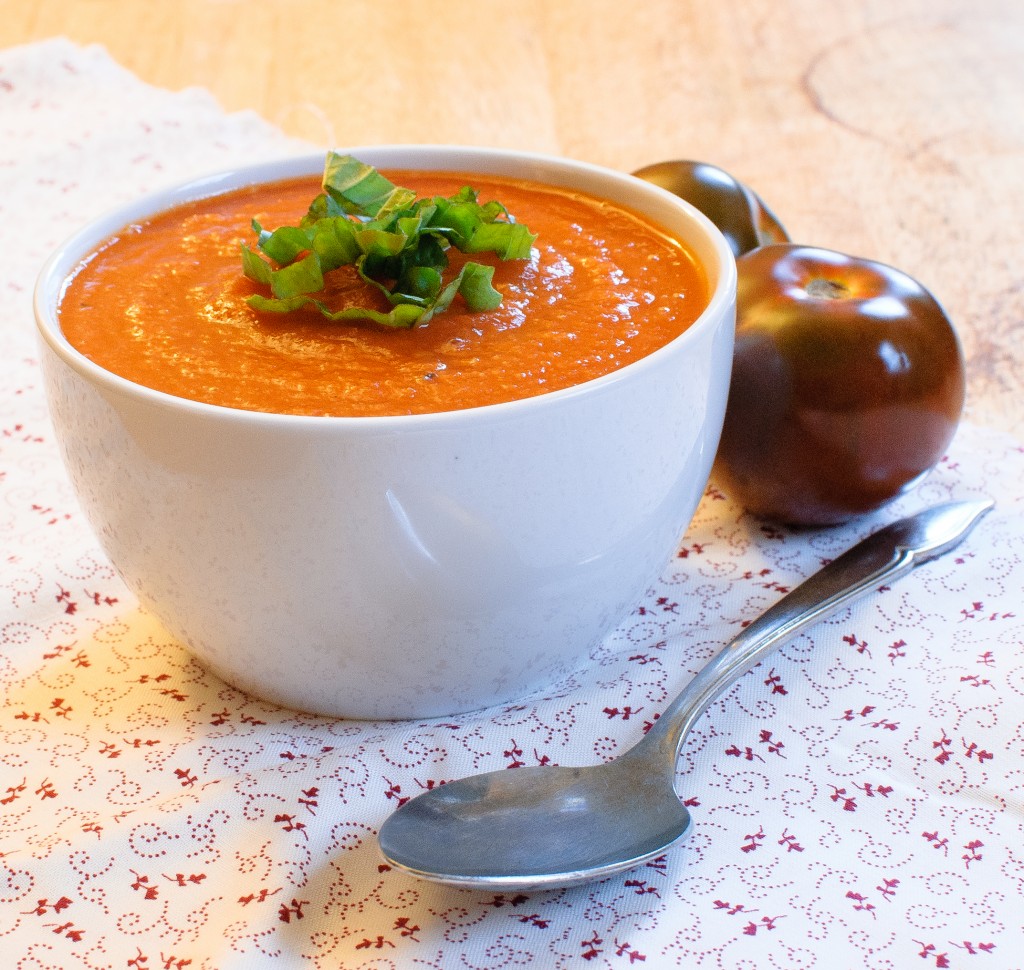 Soup – is it or is it not a meal? This is a debate as old as time, more perplexing than "to be or not to be," more polarizing than pumpkin beer and candy corn combined. Can hot liquid, regardless of what it contains, stand up as a main dish? This hot-button issue was even the focus of a classic Seinfeld episode – Jerry owes Kenny Bania a meal (in exchange for a free Armani suit), but Kenny orders the soup and tells Jerry he'll take the meal later.
Okay, you know what? I can't do it justice. Just watch it:
My stance? Soup can indeed be a meal. Whether you're horribly ill and broth is all you can handle, or you just want some cold weather comfort food, a steaming hot bowl of soup nearly always hits the spot. And if any soup can make the case that it can stand alone in the middle of the dinner table, it's this one, because it's got a secret ingredient – white beans pureed into the mix to give it a hearty, healthy boost of protein and fiber.
I made this for Nor's dad the day he flew into town, thinking a hot bowl of soup would hit the spot after a long day of traveling, and it lasted for lunches for days after. When I make it again, I'll plan on using it for quick weeknight meals, too. Like any tomato soup, it pairs beautifully with grilled cheese, but it definitely doesn't need anything other than a few sprigs of basil and a big spoon.
What's your stance on the great soup debate?

Tomato & Roasted Red Pepper Soup
White beans add protein, fiber, and bulk to this hearty, healthy soup.
Ingredients
2 Tbsp olive oil
1 medium onion, diced
3 cloves garlic, minced
2 28 ounce cans whole tomatoes, undrained
2 roasted red peppers (jarred or fresh), diced
1.5 - 2.5 cups vegetable broth
2 15 ounce cans white (cannelini) beans, drained and rinsed
2 tsp dried oregano
1 Tbsp dried basil
1 Tbsp dried parsley
1 tsp paprika
¼ tsp cayenne pepper
Salt and pepper to taste
Instructions
Heat the olive oil in a large stockpot over medium heat. Add the onions and cook until softened, stirring occasionally, about 5-7 minutes. Add the garlic and cook for one minute.
Add the tomatoes, roasted red pepper, and 1.5 cups broth. Bring to a boil and simmer for about ten minutes.
Add beans, oregano, basil, parsley, paprika, cayenne, and salt and pepper. Simmer over low heat for 20 minutes.
Puree the soup until smooth using an immersion blender, or transfer the soup in batches to a food processor or blender. If soup is too thick, add additional broth, up to a cup. Serve hot.
Notes
This made a ton - the recipe can easily be cut in half and will still make a decent amount.