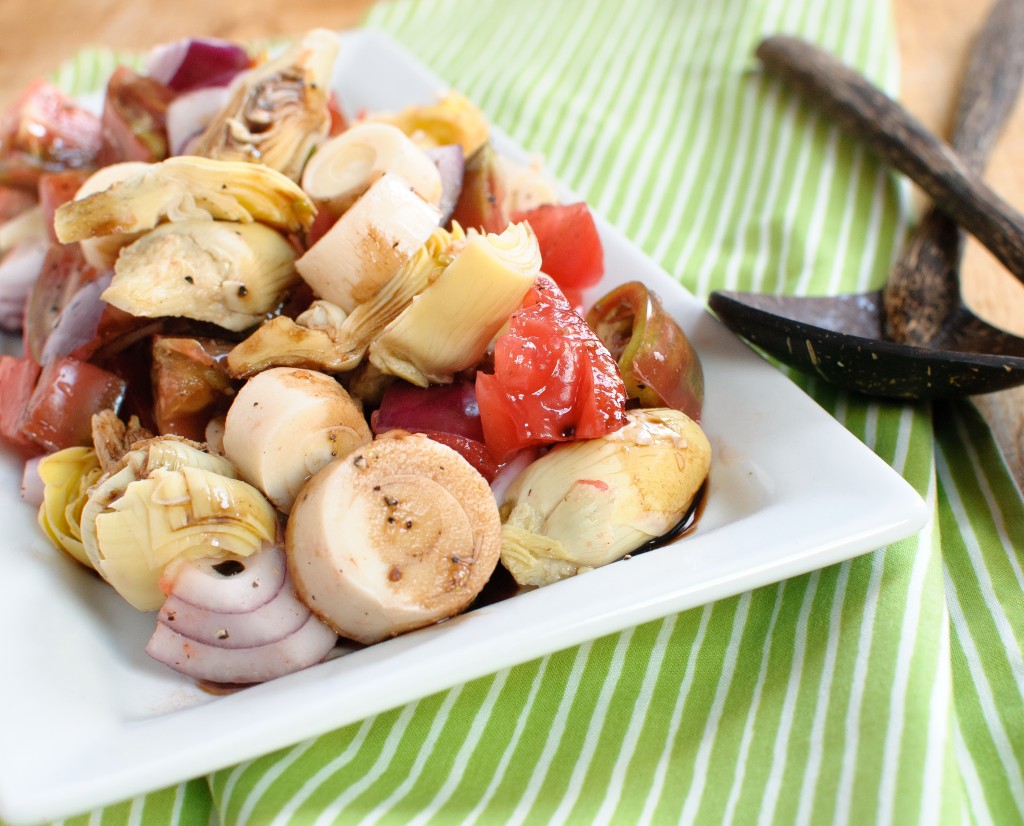 I did not like vegetables as a kid. I wasn't crazy picky (wasn't allowed to be) but I definitely was not one of those children that was gung-ho over a plate of broccoli. But for some reason, I loved hearts of palm – and my mom quickly figured out that if she threw some in a salad, I'd easily put away whatever else was there. I love it just as much now as I did then, and while I often throw together a salad for a quick dinner, I almost never do it if I don't have hearts of palm around.
This is one of my all-time favorite quick summer salads. Hearts of palm and artichokes give it a heartiness that a green salad just can't muster, and fresh heirloom tomatoes and thickly cut red onions add the perfect punch. Drizzled with a sweet five-minute balsamic reduction, every bite bursts with fresh summer flavor. I had the perfect storm this past weekend – fresh, gorgeous tomatoes from the farmer's market, a new jar of hearts of palm from my mom (she gets them for me at Costco because she still wants to make sure I eat salad), and a fancy bottle of balsamic I got as a thank you gift.
And while I'm talking about thank yous, I'd like to wish a happy birthday to my fantastic and inimitable mother – thank you for being the kind of mom that made sure I always ate my salad!
Tomato, Artichoke, and Hearts of Palm Salad
An easy summer salad bursting with summer flavors.
Ingredients
¼ cup balsamic vinegar
1 can artichoke hearts packed in water
1 small red onion
6 stalks hearts of palm
2 large heirloom tomatoes
Salt and pepper to taste
Instructions
In a small saucepan over low heat, cook the balsamic vinegar until thickened and reduced by about ½ (3-4 minutes).
Quarter the artichoke hearts and transfer to a serving bowl.
Roughly chop the onion, hearts of palm, and tomatoes and add to the bowl with the artichokes.
Season with salt and pepper and drizzle with balsamic reduction. Serve immediately.