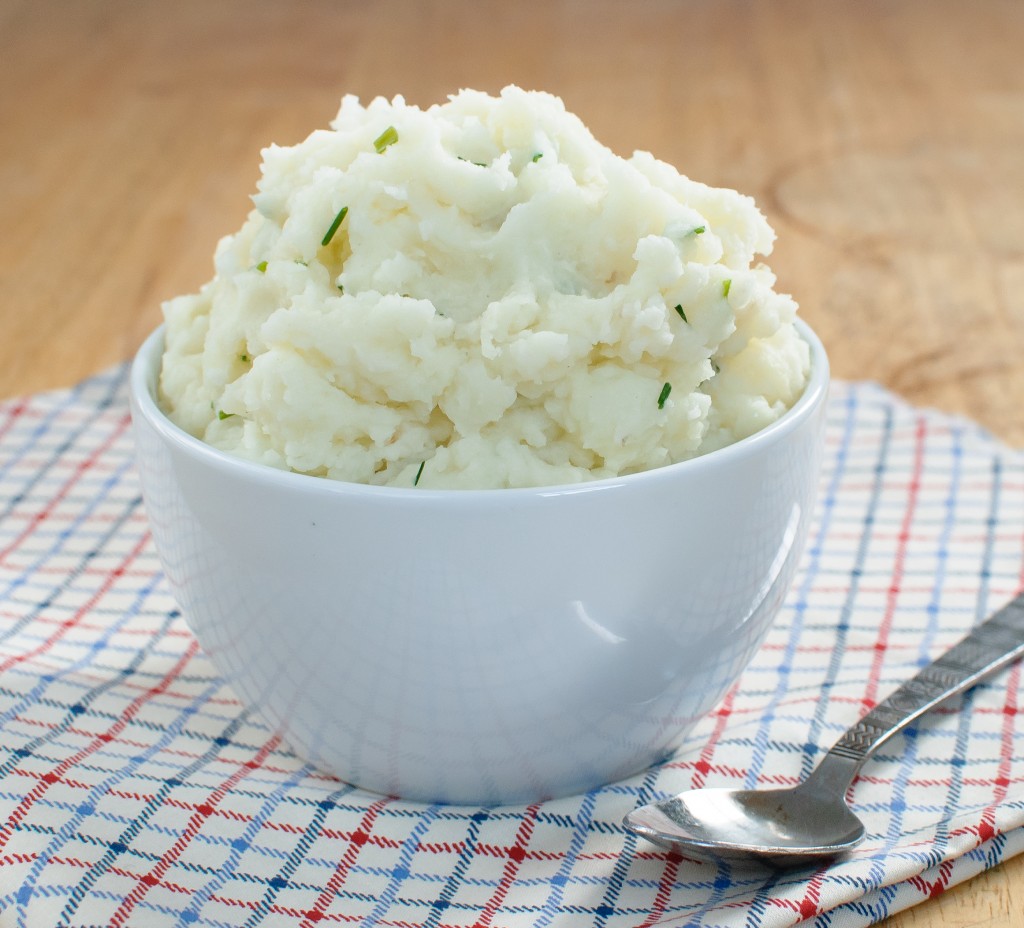 I think mashed potatoes will always be one of my favorite foods, no matter the time of year. Sure, they always bring thoughts of Thanksgiving, families hunkered down around the table against the bitter chill outside the dining room windows, but let's be honest. Mashed potatoes are amazing even in dead summer. For some reason, they tend to be a "once in a great while" treat, because they feel so time-consuming to make. I don't even know where I got that notion, because these are ready in half an hour (if you've already got roasted garlic on hand) and could not possibly be lower maintenance.
Steaming the potatoes is the absolute best trick I ever heard for perfect mashed potatoes. It keeps them from getting waterlogged in a boiling water bath, so you end up with perfect, light, fluffy potatoes instead of a gluey mess. Buttermilk adds a slight tang without the heaviness of cream, and freshly snipped chives brighten everything up at the end. And the sweet, toasty garlic? Completely over the top.
Why am I not making this once a week, again? Suddenly I'm hungry.
Roasted Garlic Mashed Potatoes
Creamy, fluffy, garlicky mashed potatoes. Perfect every time.
Ingredients
2 lbs russet potatoes (4-5 large)
1 Tbsp roasted garlic (see recipe notes if you don't have it jarred)
4 Tbsp butter
⅓ cup buttermilk
2 Tbsp snipped fresh chives
Salt and pepper to taste
Instructions
Fit a large stockpot with a steamer insert.
Wash and peel potatoes and cut into roughly equal 2-inch chunks. Place in steamer basket, cover, and steam over medium-high heat for about 20 minutes, until easily pierced with a knife.
Carefully remove the steamer insert with the potatoes.. Empty the water from the stockpot and dump the hot potatoes back into the stockpot.
Over low heat, cook the potatoes for about two minutes, stirring occasionally (this dries the potatoes out more, so they'll be even fluffier).
Add the roasted garlic, butter, and buttermilk. Mash with a potato masher until you reach desired consistency (I like them a tiny bit chunky).
Gently stir in chives, salt, and pepper. Serve hot.
Notes
To make your own roasted garlic, peel off the outer layers of skin from a whole head of garlic. Chop off about ½ inch from the top and bottom of the garlic head, so you can see the cloves. Drizzle with olive oil and roast in a 400 degree oven for 35 minutes.