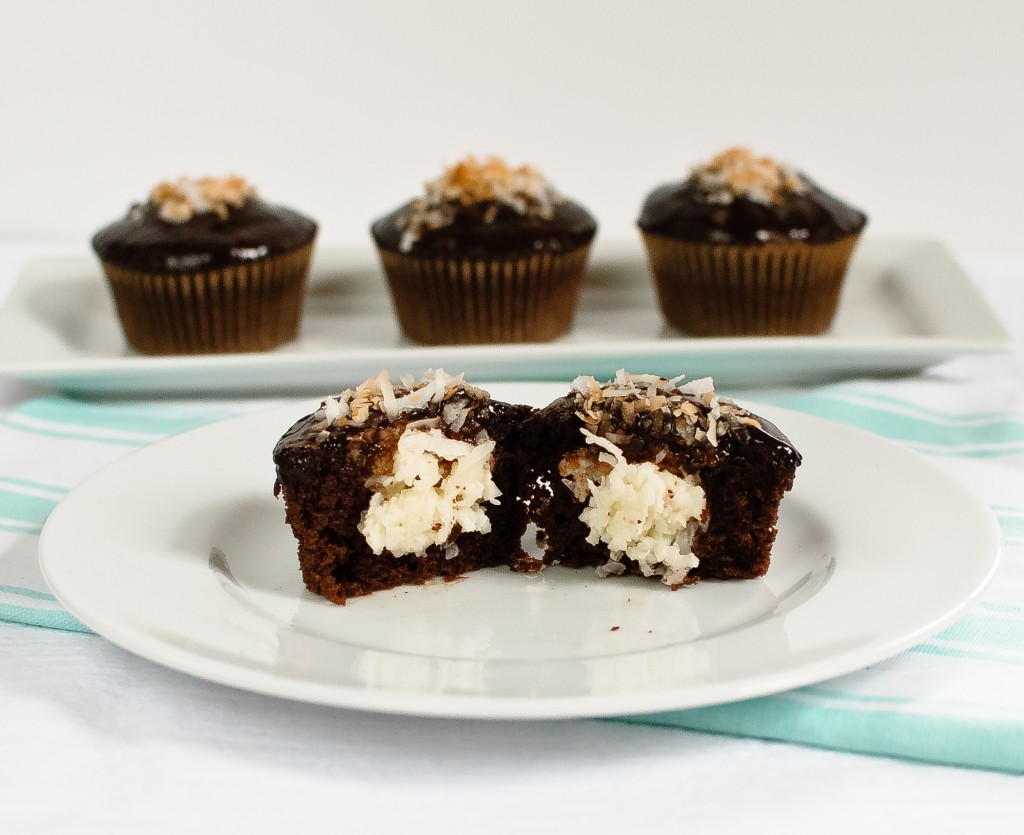 I have a little bit of a thing lately for candy turned cupcakes. I guess there's no real reason to do this – why not just eat the candy and call it a day? I'll tell you why – because it's fun to reinvent the wheel when the new wheel is a delicious frosted hug. These cupcakes were my mom's request for her birthday last year, and she requested them again this year for Mother's Day. She's a dark chocolate fanatic, which is why these are topped with a rich, fudgy ganache instead of a standard buttercream. Bittersweet ganache is also a perfect yin to the yang of the (to die for) coconut filling – I think heaps of frosting on this might be overpowering.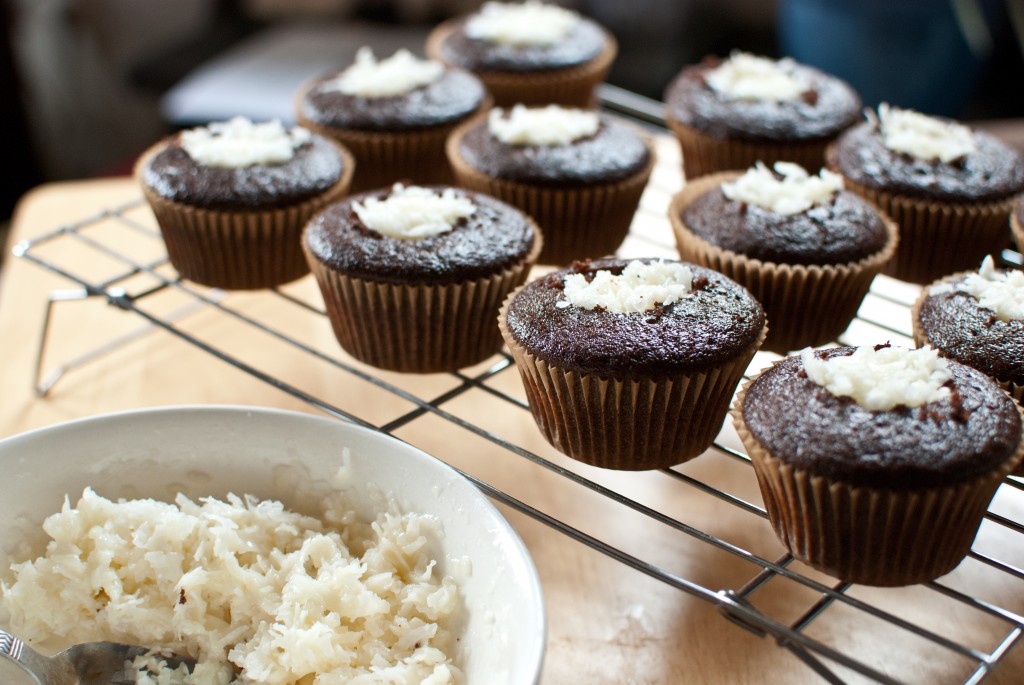 The best thing about these cupcakes – aside from the fact that they taste exactly  like a Mounds bar and are really yummy – is that they're super easy to make. The coconut filling has three ingredients and can be pre-made and set aside, the cake recipe doesn't even require a mixer, and the frosting is another three-ingredient wonder. Frankly, I'd be perfectly happy if my mom continued requesting these for every special occasion. But because she "went under the knife to give me life," as she likes to say, I suppose she can order whatever cupcake she wants. Thanks, Mom!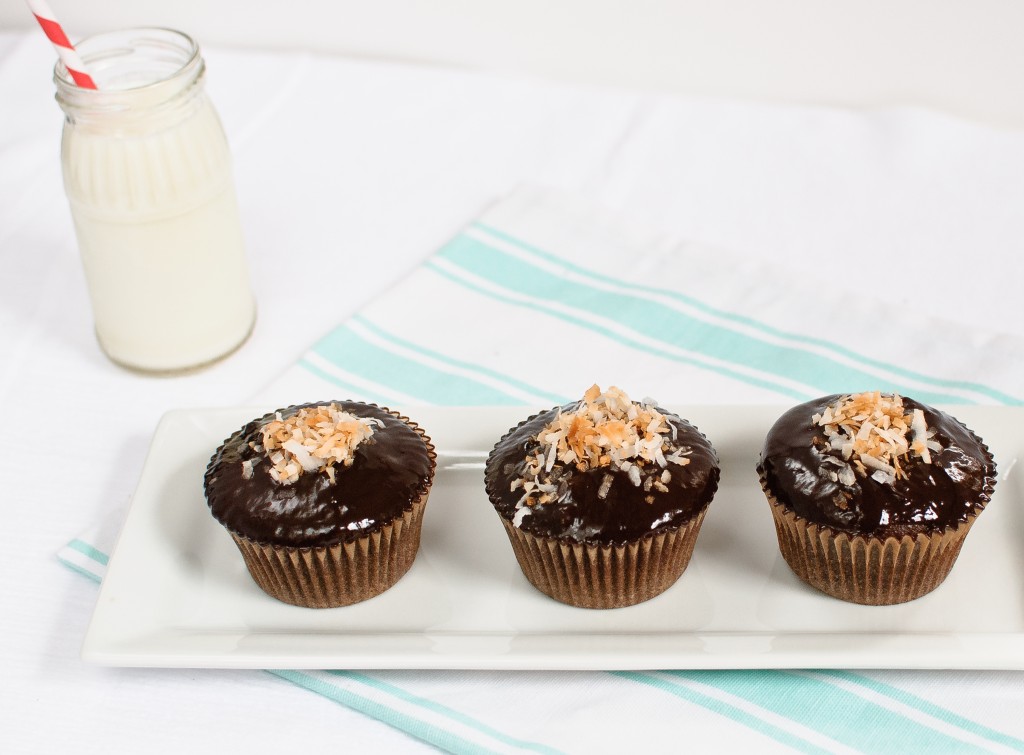 Mounds Cupcakes
The classic Mounds bar in cupcake form.
Ingredients
Cupcakes
2 cups (280g) all-purpose flour
1 cup (85g) unsweetened cocoa powder
2 cups (400g) granulated sugar
1 tsp (5g) baking soda
1 tsp (5g) baking powder
½ tsp (3g) kosher or sea salt
½ cup (120mL) vegetable oil
2 large eggs
2 tsp vanilla extract
1 cup (250g) sour cream
1 cup (237mL) coffee, at room temperature
Filling
1 cup sweetened shredded coconut
1 cup sweetened condensed milk
2 Tbsp powdered sugar
Frosting
⅔ cup heavy cream
2 Tbsp unsalted butter
8 oz bittersweet chocolate, chopped into small pieces
Toasted coconut, for garnish
Instructions
Make the filling - combine coconut, sweetened condensed milk, and powdered sugar in a bowl and refrigerate until ready to use.
Preheat oven to 350 F. Line two cupcake pans with paper liners and set aside.
To make the cupcakes, sift flour and cocoa powder into a large bowl. Add sugar, baking soda, baking powder and salt and whisk to combine. In another large bowl, whisk together the vegetable oil, eggs, vanilla, sour cream and coffee. Add to the dry ingredients and stir until well-mixed and smooth. Divide evenly among prepared pans, filling each ⅔-3/4 full. Bake 18-20 minutes, until a toothpick inserted in the center comes out clean.
To make the frosting, heat cream and butter in a small saucepan over medium heat until just beginning to bubble at the sides. Pour over chopped chocolate and let sit for five minutes. Stir until glossy and smooth. Set aside to cool at room temperature.
To prepare the cupcakes, use a paring knife to cut a circle out of the middle of each cupcake. Stuff each cupcake with 1-2 teaspoons of the coconut filling.
To frost, dip each cupcake upside down into the ganache. Top with toasted coconut (if using) and serve.
Source: Cake recipe from Baking Bites