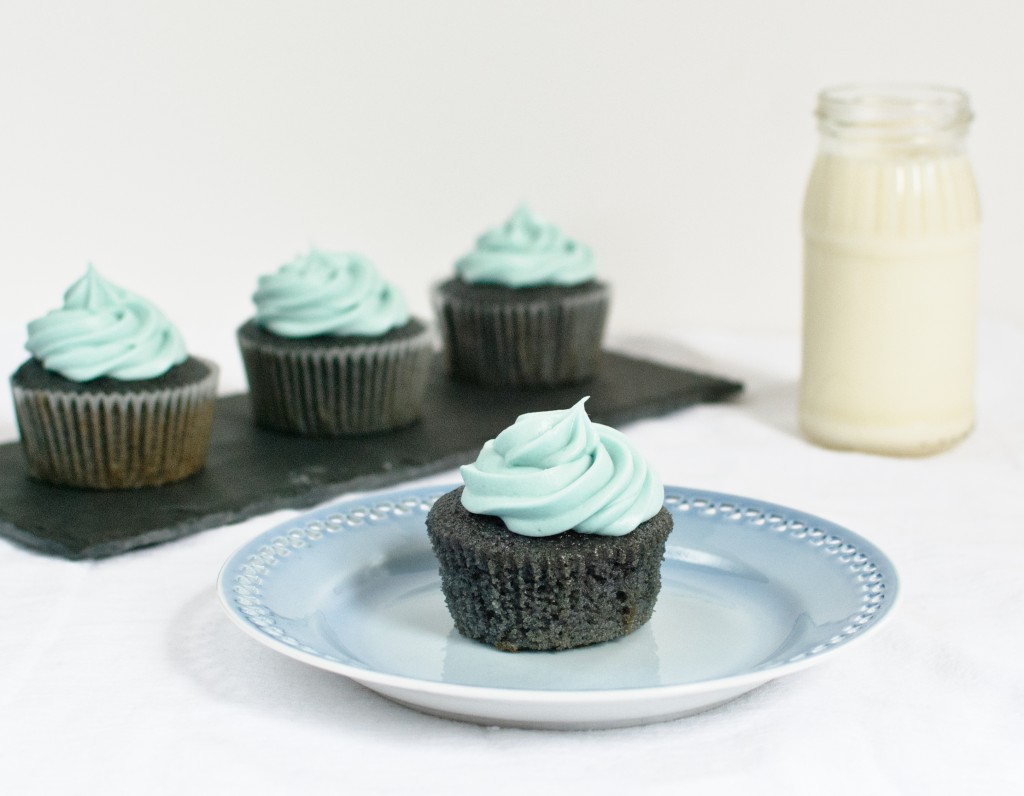 I'm hanging out in St. Louis this week!
Okay, I'm not hanging out. I'm working. But that's okay! I'm lucky enough to have a job that occasionally brings me to new cities – St. Louis, I'll admit, was a city I was less than enthusiastic about, but then I got here. The people are friendly, the food is good, and they have a hockey team in the midst of a playoff run. Their Blues are down 2 games to 0, but not out, and the enthusiasm in the city is infectious. "Let's Go Blues" signs hang on every beautiful historic building, the most tightly wound professionals are flaunting temporary Blues tattoos, and the streets near the arena (right next to my hotel) have been teeming with eager, hopeful fans in the throes of playoff excitement.
So, is there a better time than now to share a blue recipe? The team had a tough loss last night, but today I'll share a recipe that I hope will bring good juju back to them, for the sake of these enthusiastic, friendly fans. I made these cupcakes a couple of weeks ago for a little guy's baby shower, and paired with coconut cream cupcakes, they were warmly received. This is a classic red velvet cake turned blue – the taste is absolutely identical, and there is no need to color the frosting unless you're looking for a paler blue somewhere in the mix, since the cake gets pretty dark. With the light cream cheese frosting, the hint of chocolate in the cake, and the lovely slate blue hue, these are a guaranteed hit for a baby shower, St. Louis hockey party, or David Lynch theme dinner (I'll admit the latter two may be fewer and farther between than the first).
Blue Velvet Cupcakes
A blue variation on classic red velvet cake.
Ingredients
Cupcakes
2½ cups (270g) cake flour
1½ cups (312g) granulated sugar
1 tsp (5g) baking soda
1 Tbsp (6g) unsweetened cocoa powder
1 tsp (5g) kosher or sea salt
2 eggs, room temperature
1½ cups (360mL) vegetable oil
1 cup (240mL) buttermilk, room temperature
1 tsp blue food coloring or several drops violet gel food coloring*
1 tsp (5mL) distilled white vinegar
1 tsp (5mL) vanilla extract
Frosting
8 oz (230g) cream cheese
8 oz (230g) unsalted butter
⅛ cup (20g) light brown sugar, packed
4 cups (400g) confectioner's sugar, sifted
Several drops blue food coloring (optional)
1 tsp (5mL) vanilla extract
1 Tbsp (15mL) heavy cream
Instructions
Preheat oven to 350 F. Line two cupcake pans with paper liners and set aside.
In a medium bowl, sift together flour, sugar, baking soda, cocoa powder and salt.
In a larger bowl or the bowl of a stand mixer, beat together eggs, oil, buttermilk, food coloring, vanilla, and vinegar until combined (about two minutes). Add the dry ingredients in two additions and beat on medium speed until each addition is incorporated. The batter will be runny.
Fill the cupcake liners about ⅔ full and bake for 18-20 minutes (until a toothpick inserted in the center comes out clean). Let cool in pans for five minutes. Remove to racks to cool completely.
To make the frosting, beat the cream cheese on medium-high speed until light and fluffy, about a minute. Add the butter and beat until combined and fluffy, about two minutes, scraping down the sides of the bowl as necessary. Add the brown sugar, salt, and vanilla and beat to incorporate, then add desired amount of blue food coloring, if using.
With the mixer on low, add the powdered sugar one cup at a time, beating each addition until well-incorporated and scraping down the sides of the bowl as necessary. Add the cream and beat on medium-high until light and fluffy.
Frost and serve immediately, or keep refrigerated in a tightly closed container for up to three days. Bring to room temperature before serving.