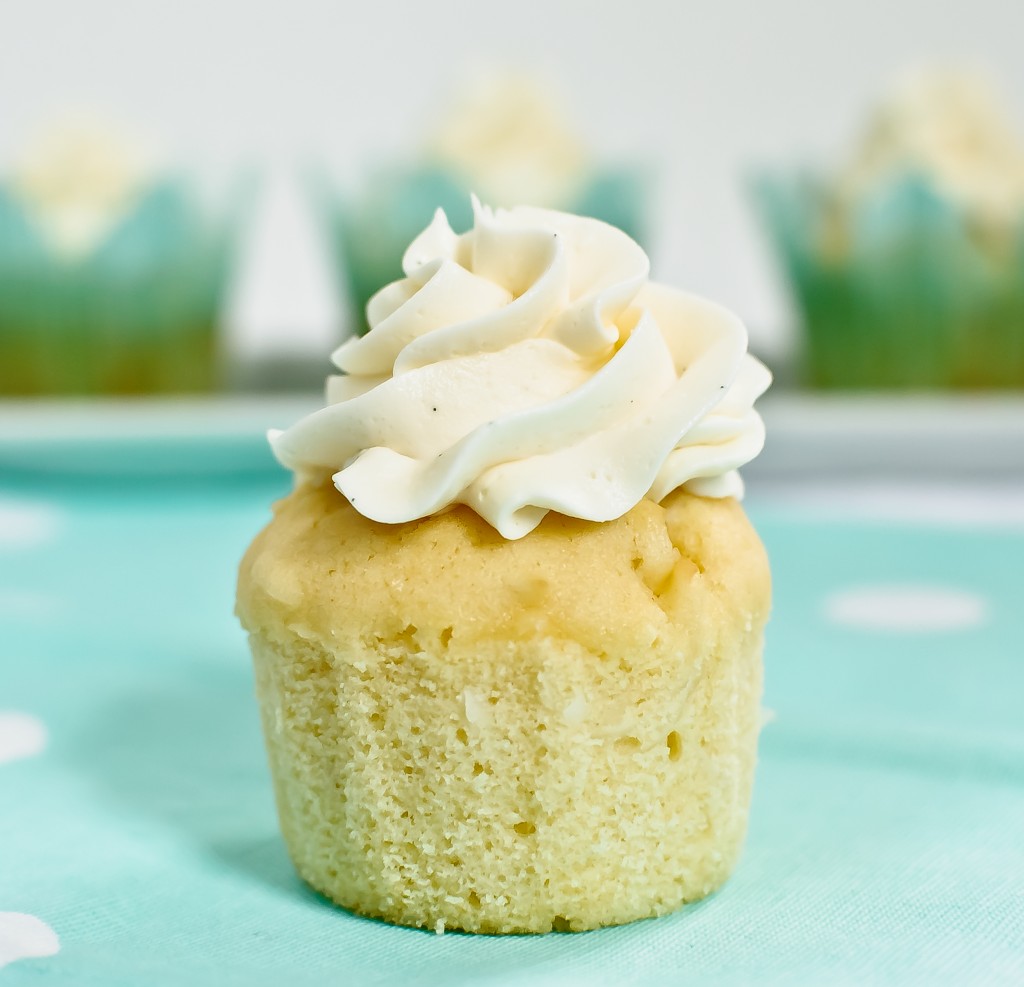 I'm in Florida this week for the wedding of an old and dear friend (she's not old, but the friendship is). Given the fact that I'm in the sunshine state, my plan was to have a treasure trove of citrusy Floridian recipes in my back pocket to share throughout the week. However, if you've met me in real life or have ever read this blog, you'll know that one thing I'm not is a planner. Hence, I've spent all my citrus recipes, but I promise this is just as good (and maybe better). Coconut…tropical…Florida! There we go. Delicious and thematically relevant.
I made these for a little boy baby shower with a nautical theme last weekend. When the hostess of the shower chose these, I was so excited. I almost never get to make them – coconut is kind of polarizing. People seem to either love it or hate it with equal levels of passion, so it's not generally a popular choice for group events. These, though, might be able to topple even the most dedicated coconut hater. The cake itself has barely a hint of coconut, and the shredded coconut mixed into the batter just adds a bit of moisture and texture without being overwhelming in the least. The fluffy frosting is pure vanilla, so the filling is where the real coconut magic is. Creamy and sweet, there's just enough to pack a subtle punch without screaming "HELLO! I AM COCONUT!"  I also love how this cake domes up when baking without spilling over – I know we're supposed to love the flat-top cupcake because it's a better decorating canvas, but once in a while I really love to see a cake rising triumphantly beyond its means without collapsing into a muffin.
Long story short, these are cupcakes that are ideal for coconut lovers, while being subtle enough to possibly tempt coconut haters. And if the coconut haters are stubborn, more for us, right?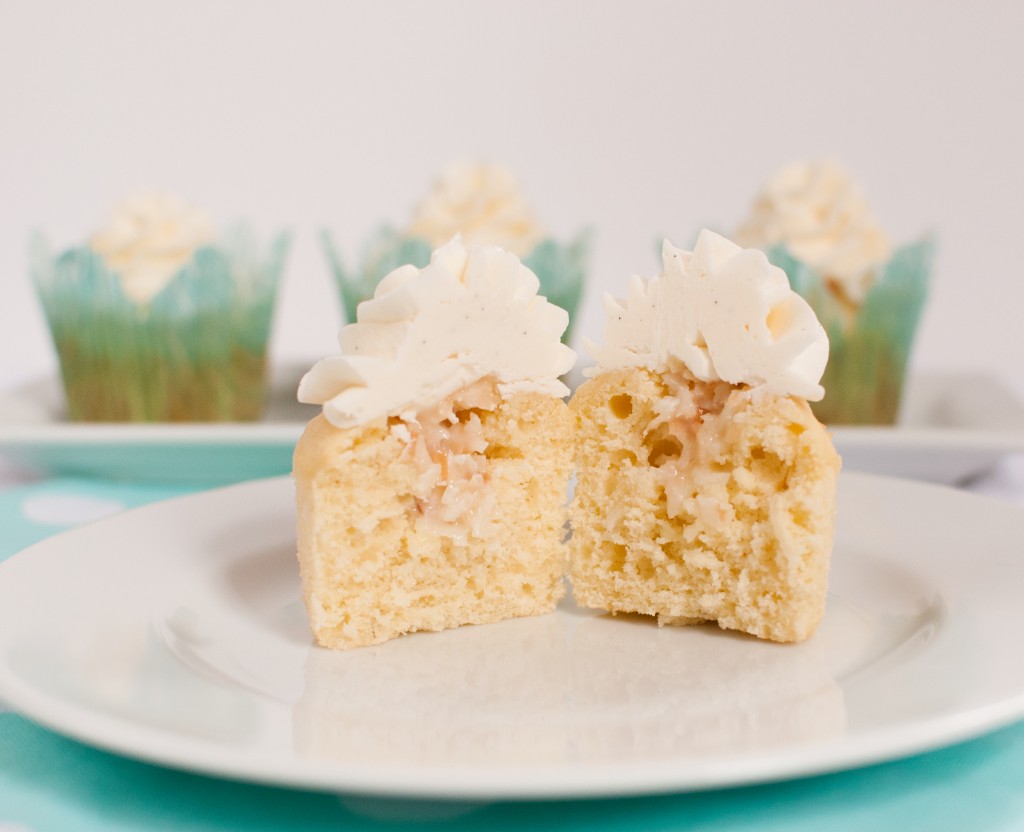 Coconut Cream Cupcakes
A moist coconut cake with coconut filling and fluffy vanilla frosting. Yields 24 cupcakes.
Ingredients
Cupcakes:
3 cups (410g) all-purpose flour
1 cup (120g) sweetened flaked/shredded coconut
1 Tbsp + 1 tsp (20g) baking powder
½ tsp (2.5g) salt
2 sticks (228g) unsalted butter
1⅓ cups (265g) granulated sugar
4 large eggs, room temperature
2 tsp vanilla extract
1⅓ cup coconut milk
Coconut Filling:
7 oz sweetened condensed milk
1 cup (120g) shredded coconut
Frosting:
3 sticks (340g) unsalted butter, room temperature
1 tsp vanilla bean paste or vanilla extract
5-6 cups (500-600g) powdered sugar
Instructions
Make the filling - combine sweetened condensed milk and coconut. Place in the refrigerator to chill.
To make the cupcakes, preheat oven to 350 F. Line two cupcake pans with paper liners and set aside.
In a medium bowl, combine flour, coconut, baking powder and salt and whisk to combine. Set aside.
In a large mixing bowl or the bowl of a stand mixer, cream the butter and sugar together on medium speed until pale and fluffy, about two minutes. Add eggs one at a time, beating well after each addition. Beat in vanilla.
Add ⅓ of flour mixture and beat to combine. Add half the coconut milk, followed by another third of the flour mixture. Add the remainder of the coconut milk and the rest of the flour, beating each addition until well incorporated.
Fill liners ⅔ to ¾ full. Bake 18-20 minutes, until a toothpick inserted in the middle comes out clean. Cool in pans for five minutes, then remove to racks to cool completely.
To make the frosting, beat butter on medium-high speed until fluffy. Add vanilla and beat to combine. Add powdered sugar a few tablespoons at a time, beating well after each addition.
To assemble, use a paring knife to cut a circular core out of each cupcake. Fill each with 1-2 teaspoons of coconut filling, depending on how filling heavy you want them. Frost and enjoy!
Source
: Adapted from
Pastry Affair