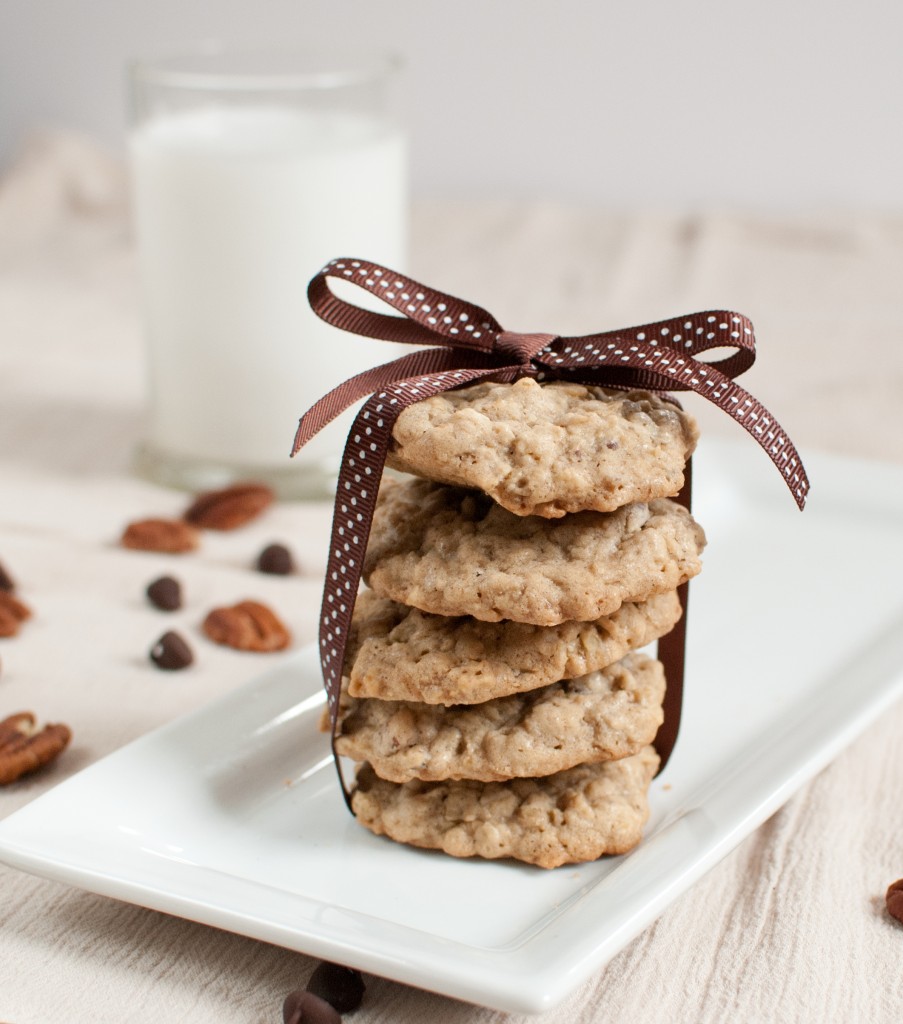 I don't make nearly enough cookies – I tend to get distracted by fussier desserts like tartlets and cupcakes. I forget that the humble chocolate chip cookie can easily measure up against its fancier cousins, and sometimes even surpass them.
Okay, I'm lying. That's not the real reason I don't make cookies. The real reason is that I stink at cookies. Rather than acknowledge that and work to get better, I would prefer to just bury my weakness in the cookie arena in a dark corner of my mind and come up with a flip excuse when someone asks me to make them – "wouldn't you rather have cupcakes?" "Oh, how about cookie dough ice cream instead?" The fact that even I can't seem to screw these up speaks to how fail-safe these cookies are.
This is just the cookie recipe from the back of the Quaker Oats box, tweaked slightly and with extra ingredients. It's endlessly adaptable – I call these "kitchen sink cookies" because you really can throw anything but the kitchen sink in them and they'll still turn out perfect. This time I used chocolate chips and pecans because that's what I had on hand, but walnuts, raisins, white chocolate chips, and toasted coconut (my mom's brilliant addition) are all good additions, too.
Make these today. Have them before dinner (or for dinner). They'll make you forget that you didn't win the Mega Millions jackpot last night. Unless you won the Mega Millions jackpot, in which case I'm not sure what you're doing reading this instead of immediately hiring me to make your cookies for you.
Oatmeal Chocolate Chip Pecan Cookies
Also known as "kitchen sink cookies!"
Ingredients
¾ cup (110g) all-purpose flour
½ tsp baking soda
¼ tsp kosher or sea salt
1 stick (4 oz) unsalted butter, room temperature
½ cup (100g) packed light brown sugar
¼ cup (55g) granulated sugar
1 large egg
½ tsp vanilla extract
1½ cups (165g) rolled oats
½ cup chopped pecans
½ cup semisweet chocolate chips
Instructions
Preheat oven to 350 F. Line two cookie sheets with parchment paper and set aside.
Combine flour, baking soda, and salt in a medium bowl and set aside. In another bowl or the bowl of a stand mixer, beat the butter and sugars together at medium speed until fluffy, about two minutes. Add egg and vanilla and beat until well combined, about 1 minute. Add the flour mixture and beat well. Add oats and beat to combine. Stir in pecans and chocolate chips.
Drop dough onto cookie sheets in rounded tablespoonfuls. Bake for 10-12 minutes. Cool on cookie sheets for ten minutes, then remove to racks to cool completely.
Source:
 Adapted from 
Quaker Oats' oatmeal raisin cookie recipe.