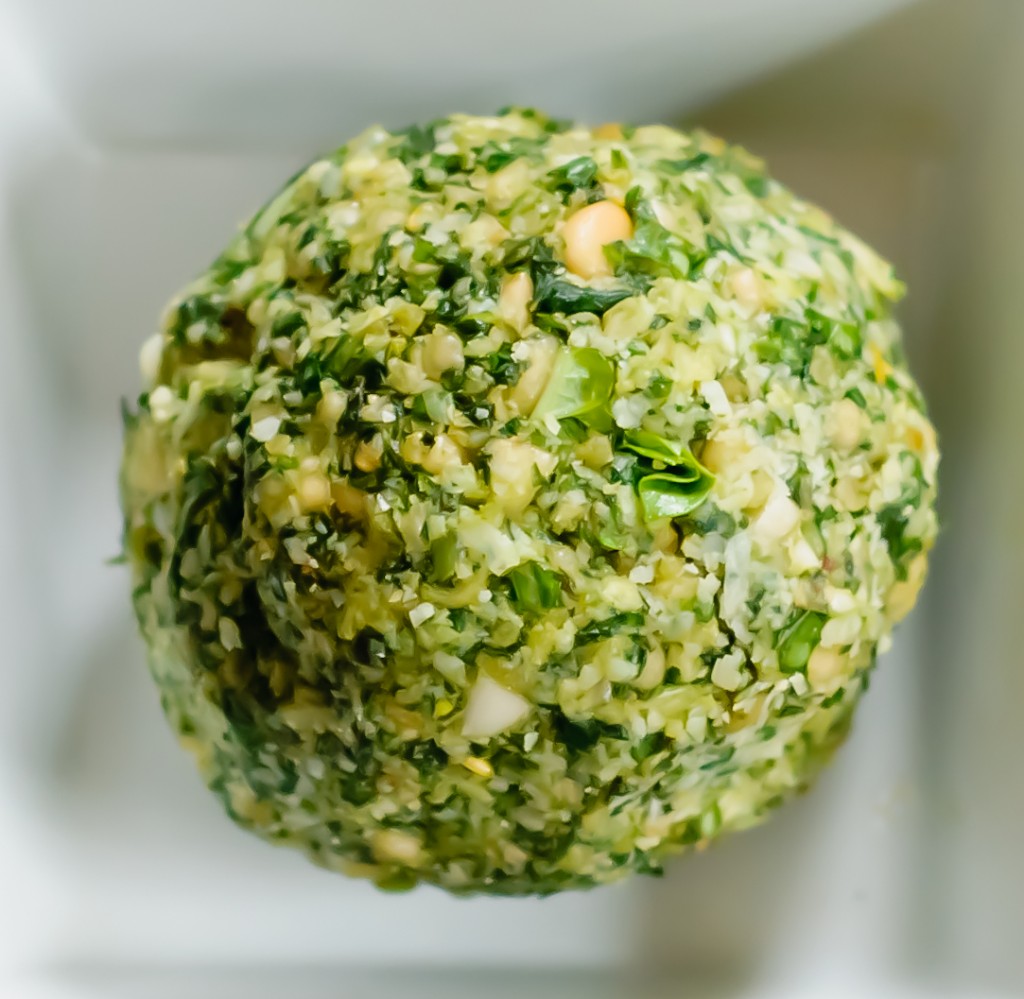 Okay, I normally don't use words like "rustic" to describe recipes. In my kitchen, it's a running joke that if something turns out edible but supremely unattractive, it gets classified as "rustic." The banana bread that overrose its pan and spilled over the sides? Rustic. Mushroom gravy that tasted divine but looked like something you'd scrape off your shoe? Rustic. See the pattern?
I may have to retire that joke in favor of the true definition of rustic – charmingly simple, unsophisticated. When I first tasted this pesto, my eyes opened wide, and I think I let out an audible gasp. I could taste every component in each bite – the basil, the garlic, the pine nuts, and the parmesan. It was as if each ingredient took a quick turn in a starring role before melding together into the most perfect blend of flavors I can imagine. It's the simplest of dishes – five ingredients and no equipment required but a sharp knife, a cutting board, and some elbow grease (RUSTIC!). It's that simplicity that makes this pesto special. Hand-chopping the ingredients a little bit at a time is what allows each flavor to both shine on its own and meld with the others, because it's not ground into mushy paste in a blender (blenders aren't rustic). The best part, aside from the taste, is the feeling of accomplishment after finishing all of that chopping (or maybe that's just me. Frankly, it doesn't take much to make me feel accomplished). Accomplishment, for the record, is also rustic.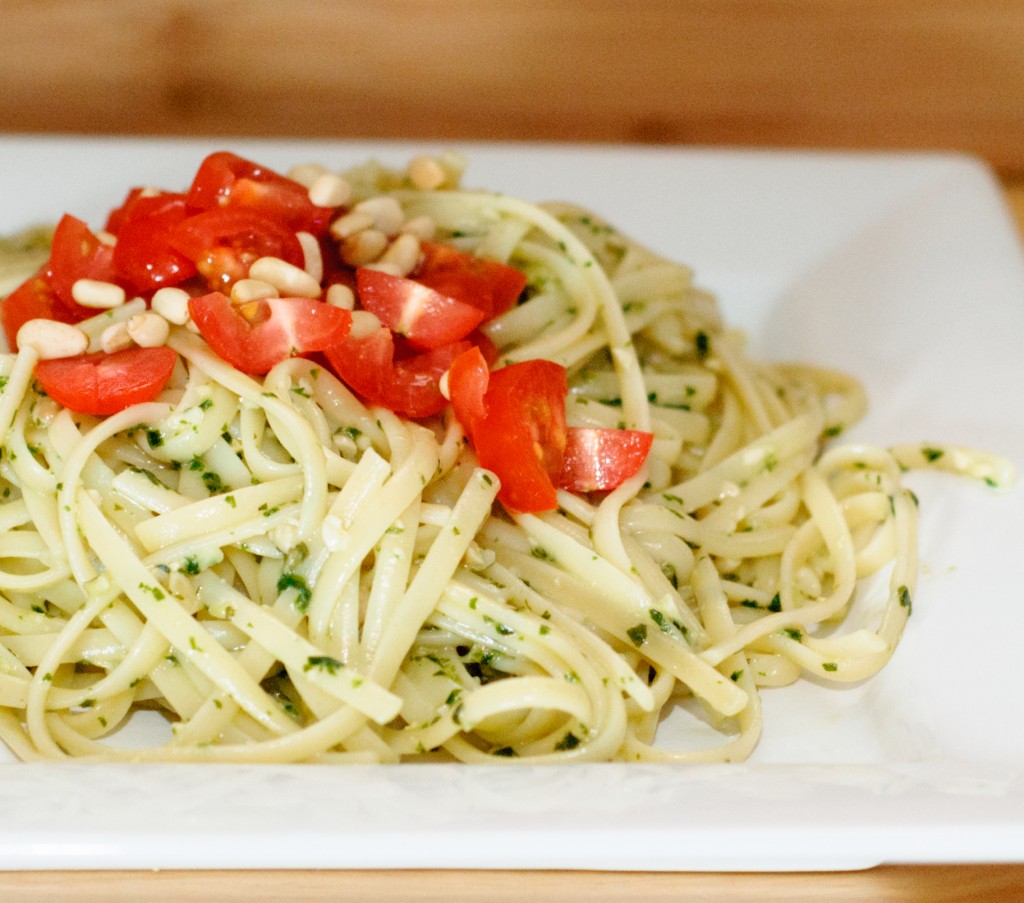 Rustic Hand-chopped Pesto
Every flavor of pesto gets a chance to shine in this hand-chopped version.
Category:
Sauces & Condiments
Yield:
About a fist-sized pesto ball. Will generously coat at least a 1 lb box of pasta
Ingredients
1 large bunch (about 2.5-3 oz) basil, stems removed
3 cloves garlic
¼ cup pine nuts (you can substitute walnuts)
1 cup freshly grated parmesan cheese (not pre-shredded or grated)
2-3 Tbsp olive oil
Instructions
Begin mincing the garlic. When most of the garlic is roughly chopped, add about a third of the basil leaves and continue chopping. Add the rest of the basil and chop.
When the basil and garlic are finely (and finally!) minced, add about half of the pine nuts and continue chopping. Add the rest of the pine nuts and – guess what! – continue chopping.
Add half the parmesan cheese and keep on chopping, then add the rest of the cheese and lather, rinse, repeat. All told, you'll probably spend about 20 minutes chopping. Feel free to let your mind wander, but don't let it wander so far that you chop off a finger. That is not one of the five ingredients.
When the mixture is chopped so finely that you can begin to push it all together, pack it tightly into a ball or patty and transfer to a bowl or airtight container (if not using right away). Drizzle with a couple of tablespoons of olive oil and set aside/refrigerate until ready to use.
Notes
This will keep for several days in the fridge, tightly covered. To use, simply add a bit more olive oil and stir to break up the ball and incorporate. Serve on pasta, in lasagna, on sandwiches, or anywhere else you'd use a standard (non-rustic!) pesto. If using in pasta, be sure to salt your pasta water and reserve a bit to thin out the pesto if necessary.
Source: 101 Cookbooks