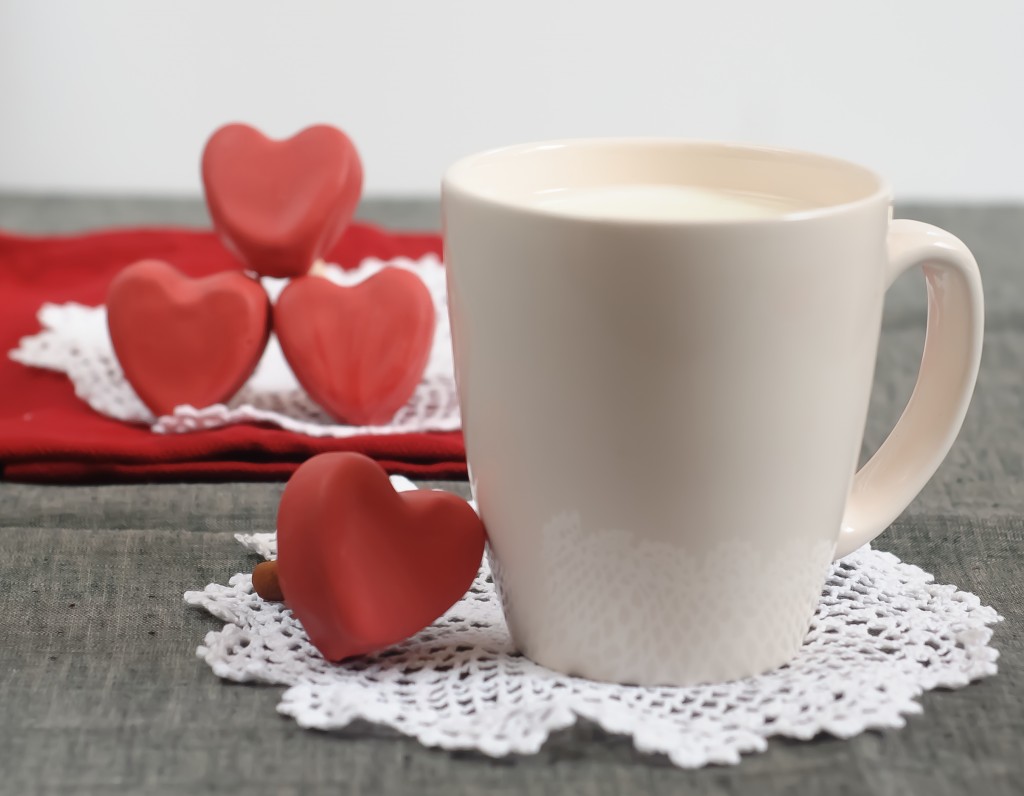 I am a sucker for anything that ends with "on a stick." What's bad that comes on a stick? Lollipops, cotton candy, veggie corn dogs, cake pops, popsicles – all a few of my favorite things, that happen to come on sticks. I even have a cookbook entirely dedicated to food on sticks. So when I found this recipe for hot chocolate on a stick, I knew I was going to make it – it was just a matter of when.
I first came across this recipe right before Christmas, when I was in a frenzy of homemade gift-making. In the three days before Christmas, I plowed through two batches of jelly, a vodka infusion, herb salts, lavender sugar, hot sauce, and two different kinds of shortbread. A diplomat would say I had my hands full; a realist would've taken one look at my wild hair, flour-covered clothes, and disaster-scene kitchen and had me committed. As much as I wanted to cram this hot chocolate onto my already unmanageable to-do list, there just wasn't time. In the madness of the holidays, I ended up forgetting about it until yesterday, when I moved something in a cabinet to reveal the stack of chocolate bars I'd bought just for this and absentmindedly squirreled away. And as luck would have it, it was two days before Valentine's Day and I'd found (and purchased, obviously) a heart-shaped ice cube tray for $2 at a hardware store (??) just a few days earlier. Clearly my destiny, at least for yesterday afternoon, was to make heart-shaped hot chocolate on a stick.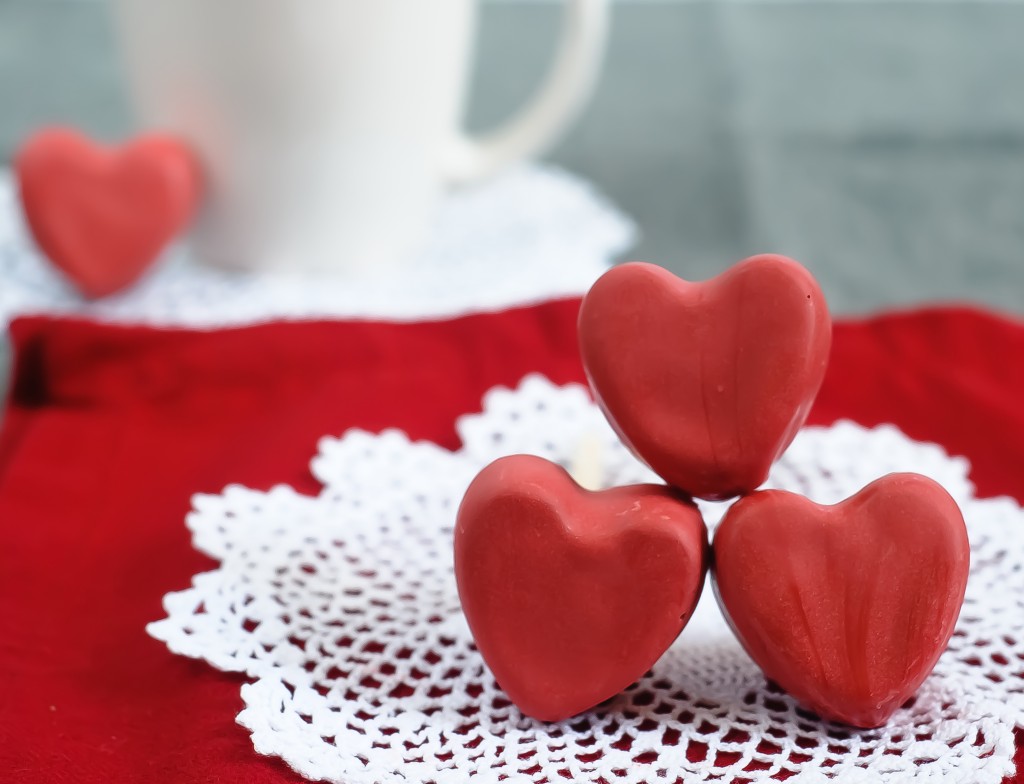 I was a little bit intimidated at first – I'm no candymaker, and I have a habit of somehow managing to always attract the one drop of whatever ruins things – oil in meringue, water in chocolate, bleach on a black shirt. But this turned out to be so quick and easy I was sure I must've forgotten something. Luckily, my only memory lapse was forgetting this recipe existed for a few months.
Aside from being extremely cute and simple to make, these make a damn fine cup of hot chocolate – it's incredibly rich and smooth, even in skim milk. The red candy melts do give the final cup of steaming goodness a bit of a pink tint and the flavor more of a vanilla tone, but enrobing them is entirely optional. I only did it to make them Valentine-friendly – they are equally adorable and decadent without the added color.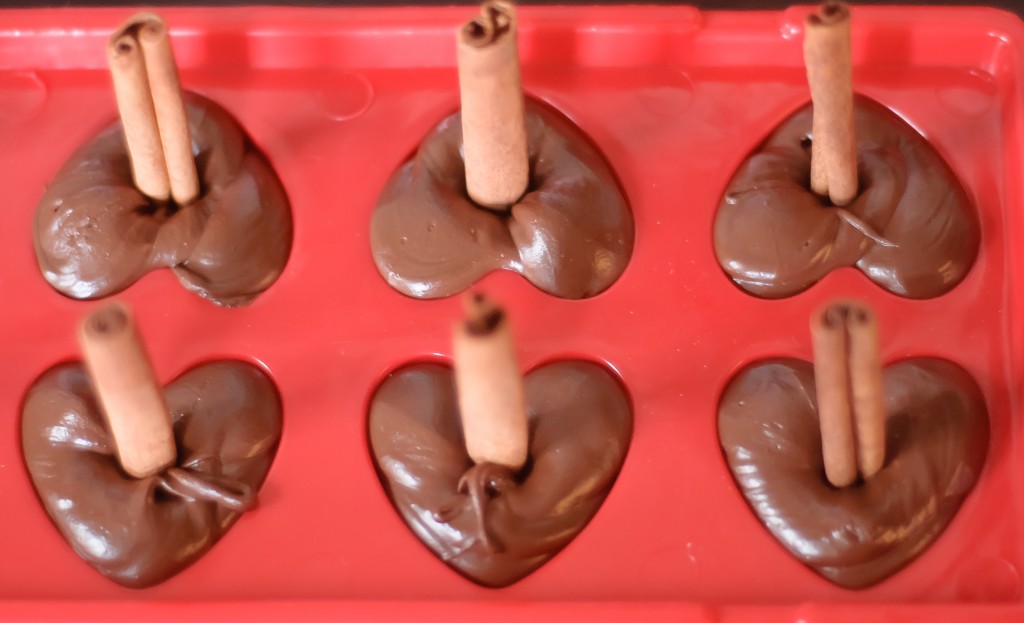 Hot Chocolate on a Stick
Yield:
16 1-oz cubes/hearts
Ingredients
½ cup (1.5 oz/40 g) unsweetened cocoa powder
1 cup (4.5 oz/130 g) confectioner's sugar
⅛ tsp salt
⅛ ground cinnamon
⅛ tsp powdered vanilla (optional)
9 oz (255g) milk chocolate
7 oz (200g) semisweet chocolate
Pink or red candy melts (optional)
Special Materials:
1 oz ice cube trays or candy molds
Lollipop sticks or cinnamon sticks
Piping bag or large ziploc bag
Instructions
Sift cocoa powder, confectioner's sugar, and salt into a medium bowl and set aside.
Chop the chocolate into very small pieces and combine in a microwave-safe bowl. Make sure that the bowl is completely dry. Microwave in 30-second intervals at 50% power, stirring between intervals. When the chocolate is almost completely melted (about ¾), stir until the remaining chocolate chunks melt.
Pour melted chocolate over dry ingredients and stir until completely incorporated. The mixture will be very thick and somewhat stiff, but should still be pliable. Spoon into piping bag or ziploc bag and cut off the tip. Pipe into ice cube trays or candy molds. When filled, rap the tray firmly on the counter several times to remove air bubbles and evenly distribute the chocolate mixture (this is one little mistake I made - I should've been more heavy-handed here). Insert lollipop sticks or cinnamon sticks into each cube and refrigerate for a few hours.
If using, melt candy melts by microwaving at intervals of 30 seconds at 50% power, stirring between each interval. Dip hot chocolate sticks in melted candy and allow excess to drip off. Allow to set on wax paper or place sticks upright in styrofoam until completely set, at least an hour. Store at room temperature.
To serve, heat 8 oz of milk for each chocolate stick. Place chocolate into hot milk and stir. Allow several minutes to dissolve completely.
Source:
 Adapted from
30 Pounds of Apples
, originally from
Giver's Log
.