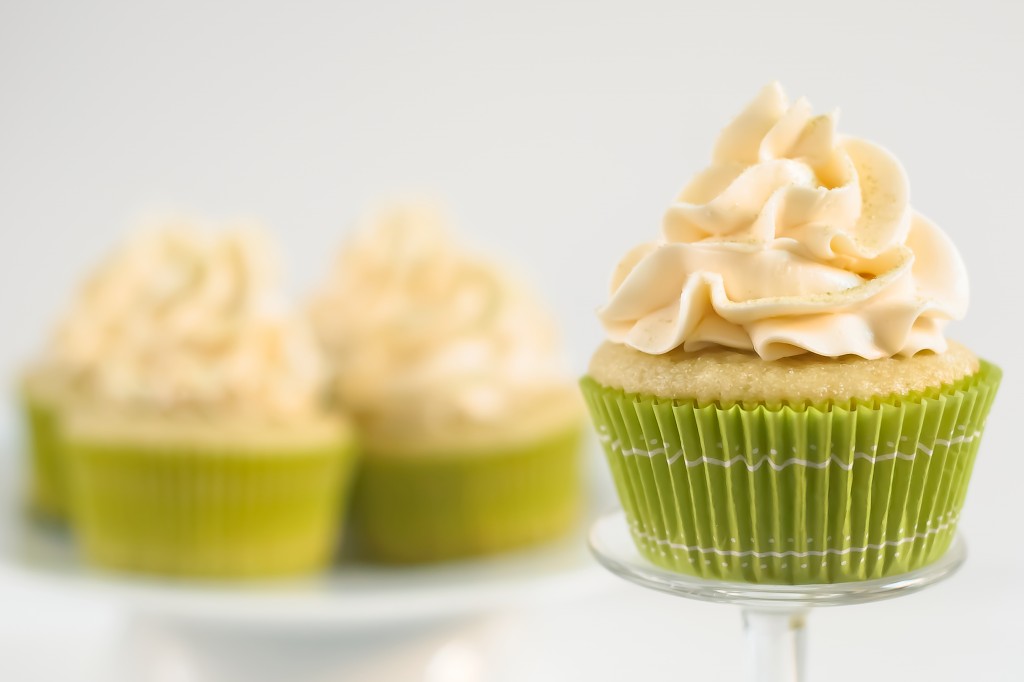 I know a lot of people believe that green tea is magical. The arguments for its numerous health benefits are pretty convincing – preventing and fighting cancer, decreasing cholesterol, reducing the risk of heart disease, clearing up skin, and fighting obesity? Sounds pretty good. So what do you do when you have a packet of powdered green tea, chock full of antioxidants and just waiting to help you lose your winter weight and lower your cholesterol?
You use it to make cupcakes, of course.
Yes, I'm aware that converting green tea into a baked good does a pretty good job of negating all the positive things it can do for you. Counterpoint: cupcakes.
I think we all know who's winning this debate. Cupcakes always win.
With cold season in full swing, I wanted these to be as close to a warm, comforting mug of tea as you can get in a cupcake – and honestly, it was so close that after tasting these, I wondered for a minute why I hadn't just brewed myself a cup of green tea and called it a day. This is definitely a subtle, grown-up cupcake, but that's not to its detriment at all. The fresh, slightly grassy flavor of matcha powder* is balanced perfectly by the tartness of lemon, and the light-as-air Swiss meringue buttercream allows the distinctive sweetness of honey to shine through without being lost under cups of powdered sugar. They may not cure cancer or lower your cholesterol, but I'd argue that they reveal a whole new layer of green tea's benefits.
*Matcha powder is dried, powdered green tea – it can be found at most Asian supermarkets or specialty tea shops. It's also great in smoothies and ice cream.
Green Tea Cupcakes with Honey Frosting
Ingredients
For the Cupcakes:
2½ cups cake flour
1¼ cups granulated sugar
1 Tbsp baking powder
1 tsp kosher or sea salt
2 Tbsp matcha powder
1 cup milk or half-and-half
2 large eggs, at room temperature
½ cup vegetable oil
1½ tsp lemon extract
For the Frosting:
4 large egg whites
1¼ cup granulated sugar
3 sticks unsalted butter, room temperature
¼ cup raw honey (I used raw because I think the taste is more pronounced, but any honey is fine)
Instructions
Make the Cupcakes:
Preheat oven to 350 F. Line 2 muffin pans with paper liners and set aside (note that this recipe makes about 20 cupcakes, so line your pans accordingly).
Sift cake flour, sugar, baking powder, salt, and matcha powder into a medium bowl. In a larger bowl or the bowl of a stand mixer, beat milk, eggs, oil, and lemon extract on medium speed until completely incorporated. Add the dry ingredients and beat on medium speed until fully mixed, about 2 minutes. Divide batter evenly among lined pans, filling about ⅔ full. Bake for 16-18 minutes, until a toothpick inserted in the center comes out clean. Cool in pans for five minutes, then remove to racks to cool completely.
Make the Frosting:
Fill a medium saucepan with about 2 inches of water. Bring to a simmer over medium heat. Whisk egg whites and sugar together in the bowl of a stand mixer. Place bowl over saucepan, whisking constantly until sugar is completely dissolved and the mixture is white and glossy (note: to completely pasteurize the egg whites, they must be heated to 140 degrees).
Remove mixer bowl from heat. Using the whisk attachment, beat on high speed until cooled and the egg whites hold stiff peaks, about 8 minutes. Switch to the paddle attachment and add the butter two tablespoons at a time. Beat until fluffy and smooth, about 3-5 minutes, or longer if necessary. Have a mild emotional breakdown when it appears your frosting has curdled and is ruined. Celebrate wildly when it comes back together. Beat your chest in victory. Add the honey and continue beating until incorporated.
Frost cupcakes and dust with a light sprinkling of matcha powder. Enjoy with or without a steaming mug of freshly brewed green tea.