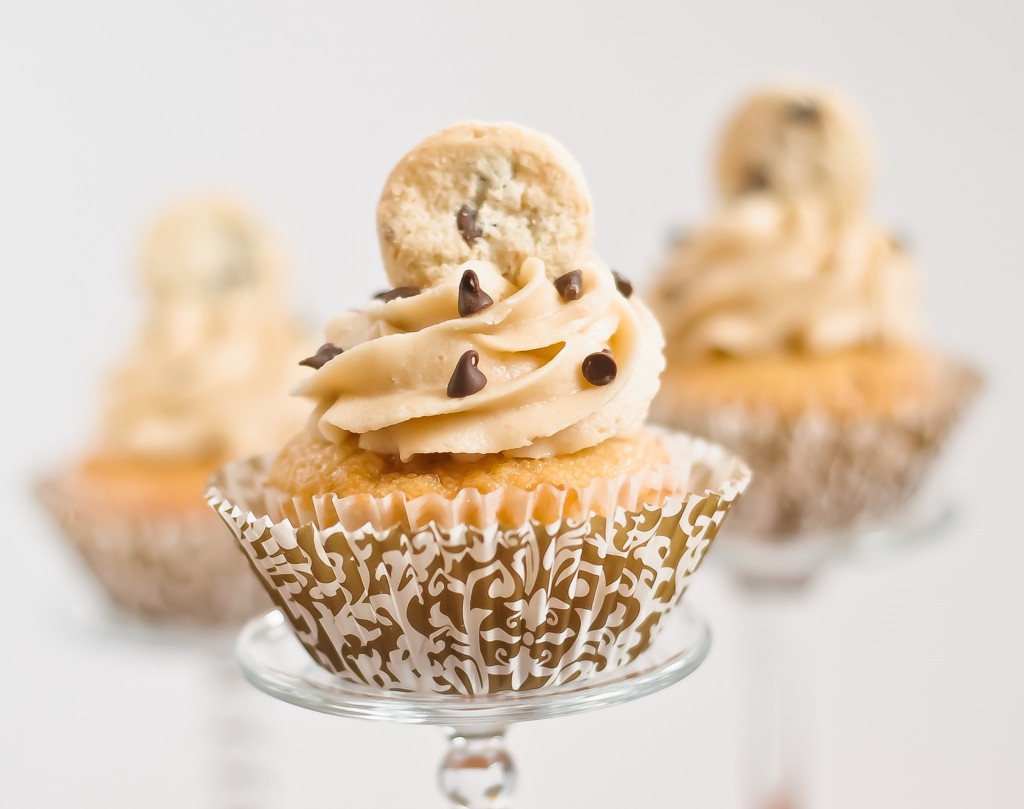 Before I say anything about these cupcakes, before I tell you how to make them, before I go on and on about just how delicious they are (and oh, they are delicious), I'm going to hand out one piece of preemptive advice: these are best eaten on a treadmill.
I'm not one to wax poetic about the joys of butter. Yes, I use it. It is what it is. But I don't buy it in bulk (well, unless there's a really good sale) and I do make a cursory effort to exercise relative moderation.
That said, we're talking dessert here. Some desserts are so incredibly, ridiculously over-the-top good, that they're worth the occasional splurge. This is one of those desserts. It's every beater you snuck from the mixing bowl and ran into the next room to lick clean when your mom wasn't looking.  It's every spoonful of raw cookie dough that won the mental battle between potential salmonella and guaranteed bliss. It's every chocolate chip cookie you grabbed from the cookie sheet and bit into when it was still almost too hot to eat. Simply put, it's nostalgia, decadence,  indulgence, and eye-rolling flavor, all rolled into one cupcake that's worth whatever extra calories it throws your way. Just this once. Or twice.
This cupcake holds a special place in my heart – I come from a family of cookie dough fiends, and I can't even count the occasions when a cold brick of slice-and-bake chocolate chip cookie dough has made its way onto the table as dessert over the years. We would all grab spoons and crowd around the dough log until nothing was left but the sticky wrapper and the tacit acknowledgment that no one would ever know what we'd done (um…sorry, guys).  Having this cupcake in the repertoire both brings back those fond memories and ensures that our shameful dough binging will never happen again. With a rich brown-sugar chocolate chip cupcake filled with a dollop of eggless cookie dough  (buh-bye, salmonella fears, even though I always ignored you), topped with a slightly grainy cookie dough buttercream and a miniature chocolate chip cookie, I think we can officially put our days of sneaking raw cookie dough to bed.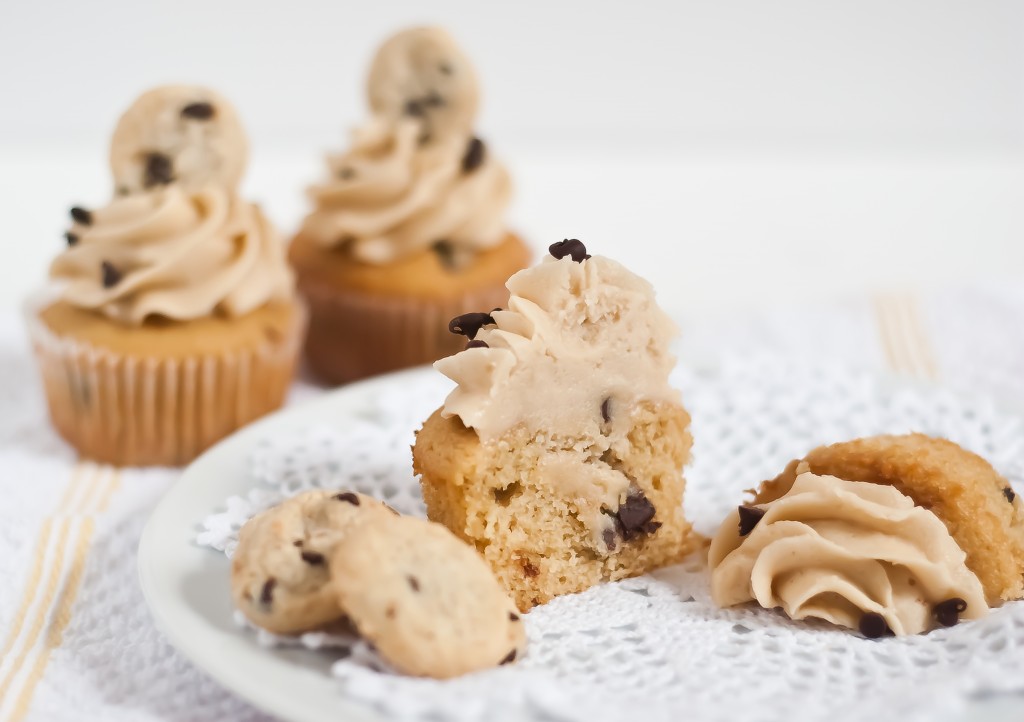 Chocolate Chip Cookie Dough Cupcakes
Ingredients
Cupcakes:
2⅔ cups all-purpose flour
1 tsp. baking powder
1 tsp. baking soda
¼ tsp. salt
3 sticks unsalted butter, at room temperature
1½ cups packed light brown sugar
4 large eggs, at room temperature
1 cup milk
2 tsp. vanilla extract
1 cup chocolate chips (semisweet or bittersweet)
Filling:
4 tbsp. unsalted butter, at room temperature
6 tbsp. light brown sugar, packed
1 cup all-purpose flour
7 oz. sweetened condensed milk
½ tsp. vanilla extract
¼ cup mini semisweet chocolate chips
Frosting:
3 sticks unsalted butter, room temperature
¾ cup packed light brown sugar
3 cups confectioners' sugar
1 cup all-purpose flour
¾ tsp. salt
3 tbsp. half and half or cream
2 tsp. vanilla extract
Extras:
Mini chocolate chips
Mini chocolate chip cookies (unabashed admission that I buy these at Trader Joe's. These are time-consuming enough as it is - the recipe source links to a recipe you can use if you want to make them from scratch)
Instructions
Make the Filling:
Combine butter and brown sugar in a bowl or stand mixer and cream on medium speed until light and fluffy. Add flour, sweetened condensed milk, and vanilla. Beat until well-incorporated, about a minute. Cover and refrigerate until ready to use.
Make the Cupcakes:
Preheat oven to 350 F. Line two 12-cup muffin tins with paper liners and set aside.
Combine flour, baking powder, baking soda and salt in a medium bowl and set aside.
Using a hand mixer or in the bowl of a stand mixer, cream butter and brown sugar on medium speed until light and fluffy (2-3 minutes). Beat in eggs one at a time, scraping down the sides of the bowl after each addition. Add the dry ingredients and milk in alternating additions, beginning and ending with the dry ingredients. Beat in vanilla, then fold in chocolate chips with a spatula.
Scoop batter into prepared tins, filling about ⅔ to ¾ full. Bake for 17-19 minutes, until tops spring back lightly when touched. Cool in pans for five minutes, then transfer to wire racks to cool completely.
Make the Frosting:
Beat butter and brown sugar in a mixing bowl or stand mixer until light and fluffy (since you've already done this twice for this recipe, I assume you've got the hang of it). Mix in the powdered sugar, ½ cup at a time, until well-incorporated. Beat in flour and salt until smooth. Mix in cream and vanilla until smooth and fluffy.
Assemble:
Using a paring knife, cut a well into the center of each cupcake. Dispose of the cupcake middles by placing in your mouth, chewing, and swallowing. Scoop some of the cookie dough filling into each cupcake. Frost the cupcakes and top with mini chocolate chips and a mini cookie.
Source: Annie's Eats.
Don't miss a thing – sign up to receive new recipes by email, or follow me on Facebook, Instagram, and Pinterest.