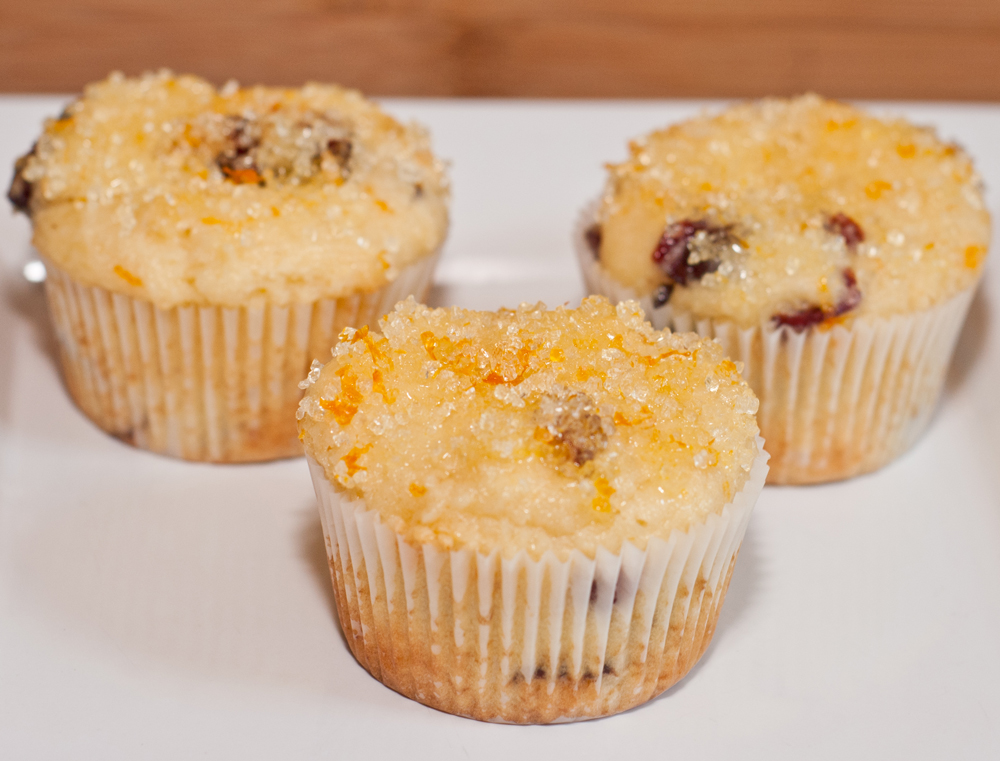 There are two things I always seem to have around: dried cranberries (because I impulsively bought a five pound bag at Sam's Club last year) and at least one pathetic-looking orange that I bought weeks ago with the best intentions of juicing/zesting/otherwise providing with a good home. And you know the saying – when life hands you a pathetic-looking, abandoned orange, make cranberry-orange muffins.
I first tried this recipe a few months ago when a good friend had her first baby. I was trying to fill her freezer for the next week or two while she adjusted to life with a newborn, and had already made cupcakes, peanut butter chocolate chip muffins, pizza, and mac and cheese – I was down to staple ingredients and a few stray pieces of produce in my fridge, but I was on a roll and didn't want to quit yet. After digging out my steadfast sad orange and a bag of dried cranberries, I went looking for the perfect cranberry orange muffin recipe and found it on the first try. These are truly divine – they're perfectly sweet, balanced by a lovely contrast of tartness from the sour cream and zesty orange topping, and they freeze beautifully for a quick and easy breakfast down the road. I can tell you that since I found this recipe, I have far fewer oranges languishing in the bottom of my produce drawer – and these muffins are even better with new, happy oranges.
Cranberry Orange Muffins
Ingredients
For the Muffins:
2 cups all-purpose flour
1 tablespoon baking powder
½ teaspoon salt
1 egg
1 cup sugar
1 teaspoon finely grated orange zest
4 Tbsp (1/2 stick) unsalted butter, melted and cooled
1¼ cups sour cream
¾ cup dried cranberries
For the Glaze:
¼ cup sugar
¼ cup orange juice
For the Orange-Sugar Topping:
½ cup sugar
1 teaspoon finely grated orange zest
Instructions
Preheat oven to 350 F. Line a 12-cup muffin pan with paper liners.
Make the glaze and orange-sugar topping: Combine ½ cup sugar and 1 teaspoon orange zest in a small bowl and set aside. In a small saucepan, combine ¼ cup sugar and ¼ cup orange juice. Bring to a simmer, stirring occasionally, until mixture is thickened and syrupy.
Make the muffins: Combine flour, baking powder, and salt in a bowl and stir to combine.
In a large bowl (or the bowl of a stand mixer), beat the egg, sugar, and orange zest together at medium speed until combined and thickened. Add the cooled melted butter and sour cream in separate additions at low speed until just combined. Add the flour and beat at low speed until combined. Fold in the cranberries with a rubber spatula.
Divide batter into prepared muffin tin. Fill cups ½ – ⅔ full. Bake for 18-22 minutes, until a toothpick inserted in the center comes out clean. Cool in pans for five minutes. Brush the top of each muffin generously with the sugar/orange juice glaze, then dip into the orange-sugar topping.
Serve warm or at room temperature. These also freeze well in a tightly sealed container or Ziploc bag for 3-4 months.
Source: Barely adapted from Bakingdom