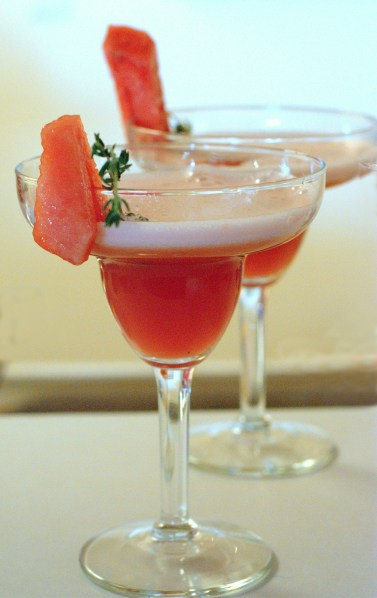 Whenever I have people over (rare, since my apartment is approximately the size of the a shoebox), the first thing I do is offer them a drink. Aren't you sad that I can't have people over more often? Me too. But since this is my first post here, I can't think of a better way to start than with a cocktail.
Since I can't have people over much, I often do the next best thing, which is to go to my friends' homes and have them offer me cocktails. My friend Wendy, in particular, is the master of the casual get-together.  Her go-to is a frozen margarita that'll turn you off the mix-heavy ones at Tex-Mex chain restaurants forever, but every so often she'll unleash a new drink that leaves us shaking our heads in amazement (and taking cabs home). This watermelon-thyme drink is one of those, and I loved it so much that I made it at least three times over the ensuing months, twice for parties and once for no occasion at all. I'm not normally a tequila drinker, but found that the watermelon and simple syrup gave it a pleasing sweetness that muted the tequila's…well, tequila face factor (you know what I'm talking about. We all have a picture from college that someone impeccably timed while we were taking a tequila shot. Um, right? Is that just me?). And though I haven't tried it yet, I'm certain that vodka would make a more than suitable replacement (vodka is a suitable replacement for pretty much anything – water, cleaning solution, therapy). Cheers!

Let's Start With a Drink: Watermelon-Thyme Cocktail
Yield:
About 6 healthy pours
Ingredients
¼ cup sugar
1¼ cup water
2 tsp finely chopped fresh thyme
6 cups diced watermelon, seedless or seeds removed
1 cup ice
¾ cup tequila (or vodka)
2 Tbsp orange liqueur (we used Triple Sec)
Fresh thyme sprigs (to garnish)
Instructions
First, make the simple syrup. Combine sugar and ¼ cup of the water in a small saucepan and bring to a boil. Stir frequently to dissolve the sugar. When boiling, remove from heat, add thyme, and stir for 1 minute. Let cool.
Place the watermelon, 1 cup water, and ice in a blender on high for 2 minutes or until smoothly pureed. Add cooled simple syrup, tequila, and orange liqueur and blend until thoroughly combined. Pour into martini or margarita glasses and garnish with thyme sprigs.
Source:
Adapted from
Chef Marcela's Mexican Made Easy
.